Weird handheld keyboard comes with laser pointer
And touchpad
Check out this mini handheld keyboard with a built-in touchpad. 'Aint she a weird one?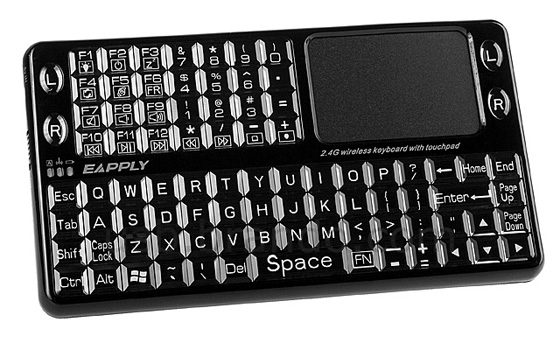 The USB 2.4GHz Multimedia Keyboard consists of 85 keys, a touchpad and laser pointer.
Pick one up for $36 (£22) over at Brando. ®
COMMENTS
Windows only?
In my experience, most wireless keyboard/pointer combos work fine with Linux - I think that at least on some PCs, the PC hardware itself interacts with the USB receiver at a sub-OS level (possibly at the BIOS level or close to it). I've used such a device with a Foxconn NT330i "nettop" running Ubuntu, and was able to use the keyboard even in the BIOS setup screen (i.e. before the OS loads in).
So, can't guarantee it, but it's possible this little fella might play nicely with XBMC, unless it's some really proprietary setup, in which case I'd steer well clear.
There are plenty of similar products on Amazon, if you're looking for a compact combined keyboard/pointer, BTW...
Support?
Seems to be Windows only.
If only it claimed Linux support I'd take a punt on it (or one of the many similar ones they have on Brando) for my XBMC box ... even though it looks like it'll croak after 2 weeks.
Make it Bluetooth...
...and my Nokia N8 might have a new friend :-) (Ironically, the N8 can actually work with those USB keyboard receiver dongles, but for some reason the connection cuts out after about 30 seconds.)