Yuri Gagarin lands at Royal Albert Hall
'I must find a telephone to call Moscow'
The Royal Albert Hall is hosting a Yuri Gagarin photo restrospective featuring "iconic and previously unseen images" from the collection of RIA Novosti.
The Russian news agency has hooked up with Science Photo Library to offer Poyekhali! Yuri Gagarin and The Dawn of Space Exploration.*
Science Photo Library's Gary Evans said: "On 12 April 1961, Cosmonaut Yuri Alekseyevich Gagarin became the world's first space man. Today, his name is recognised around the world and his legacy has changed the exploration of space forever. This collection provides a fascinating snapshot of Gagarin's life - both in front of the worlds' lenses and in private."
Among the pics on show is this snap of Gagarin, accompanied by his back-up Gherman Titov, on their way to the launch pad at Kazakhstan's Tyuratam missile range: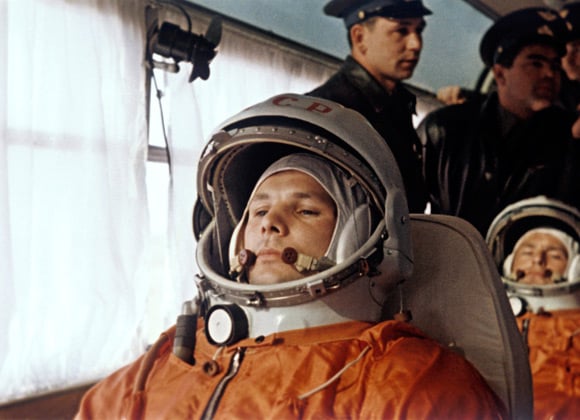 Following his 108-minute flight, Gagarin returned to Earth in Russia's central Saratov region, to be met by amazed farm workers. He told the welcoming committee: "Don't be afraid. I am a Soviet like you, who has descended from space and I must find a telephone to call Moscow."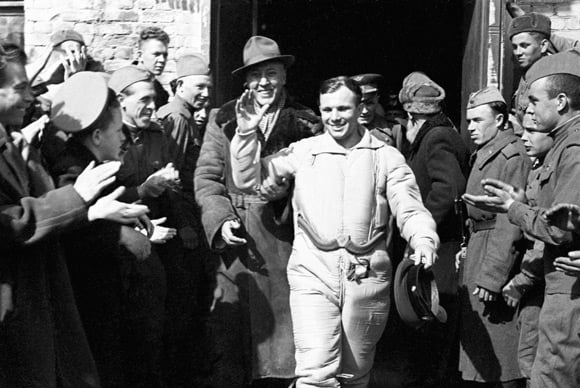 The exhibition can be enjoyed by anyone visiting the Royal Albert Hall for other events until 4 July. There are also three free public viewing opportunties: Saturday 25 June from 11am to 3pm; Saturday 2 July from 10am to 2pm; and Sunday 3 July from 11am to 3pm.
Alternatively, there's a private viewing on Sunday 26 June, as part of a talk by author Piers Bizony examining Gagarin's relationship with Soviet space genius Sergei Korolev. Tickets are £10, and you can get more details here.
And if that's not enough Gagarin for you, the cosmonaut will touch down in the Mall on 14 July in the form of a 12ft statue. He'll spend 12 months outside the offices of the British Council, which will be running a concurrent exhibition of Soviet space memorabilia. ®
Bootnote
* Poyekhali! = "Let's go!", as Gagarin famously shouted just before the launch.
Sponsored: Minds Mastering Machines - Call for papers now open