Duke Nukem Forever
What were we waiting for, Christmas?
Are we having fun yet?
Despite not quite being the misogynist everyone makes him out to be (it's impossible to even say the word with this much tongue in cheek) Duke Nukem is nonetheless an embarrassing relic of another time. The profanity, sexism and toilet humour – that once provided a refreshing counterpoint to political correctness and two-fingered riposte to videogame detractors – now comes across as extremely stale and dated.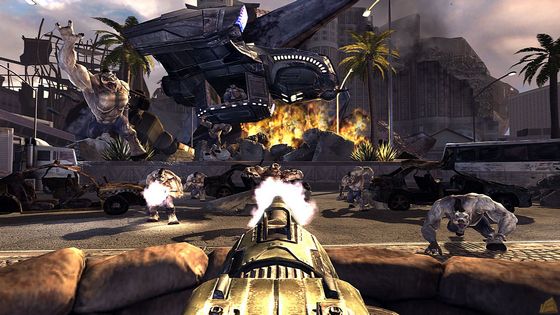 I'm gonna put this smack dab on your ass!
Trapped in the 1980s Zeitgeist, DNF misses an opportunity to instil more contemporary references. After all, unless you're a slobbering, buck-toothed, hillbilly, I'm guessing you're already tired of hearing "squeal Piggy, squeal" well before Duke's done quoting it a dozen times.
DNF also fails to add anything to the on-line play that Duke helped pioneer. Resolutely retro, multiplayer is little more than an unbridled homage to Quake and Unreal Tournament, at the expense of any innovation. Dukematch, Team Dukematch, Capture the Babe, Hail to the King – dress them up in Duke-speak as much as you like, but with tight corridors and cavernous spaces, jump pads, glowing collectible weapons and railguns, you'll feel like you've already played it to death over a decade ago. And if you happen to suffer from a bad case of nostalgia, I still wouldn't recommend it, not when you can head on over to Quake Live for a superior experience for free.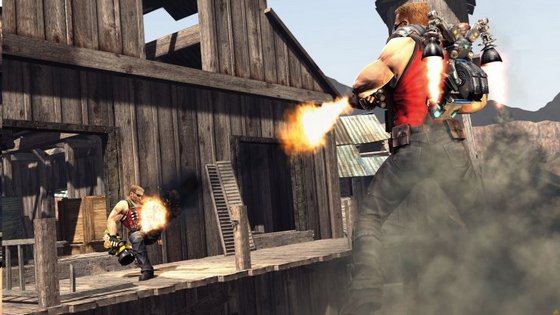 I guess pigs DO fly!
Verdict
Duke Nukem Forever is the sum of all its flaws – a truly terrible game with almost no redeeming features. It's as if Gearbox simply swept the scraps off 3D Realms' development floor and glued them together into this mess. Graphics, gameplay, narrative, innovation, there's simply nothing to recommend this mangled wreck. Put simply, as The Duke might say, "This game is one ugly motherfucker!" ®
More Games Reviews

Red Faction:
Armageddon
Hunted:
The Demons Forge
LA Noire
Dirt 3
Brink
Sponsored: Minds Mastering Machines - Call for papers now open

Duke Nukem Forever
All hail to the King? More like epic fail straight in the bin. Available on Xbox 360 (tested), PS3 and PC.
Price:
£40 - PS3/Xbox 360, £30 - PC RRP