Duke Nukem Forever
What were we waiting for, Christmas?
Game for a laugh?
There's nothing wrong with a retro turkey shoot, of course. Serious Sam made a virtue of it by hurling countless enemies at you with varied attack patterns. But DNF's environments are too sparsely populated throughout. Every level consists of fighting half-a-dozen enemies, moving a few hundred metres forward and fighting a half-dozen more.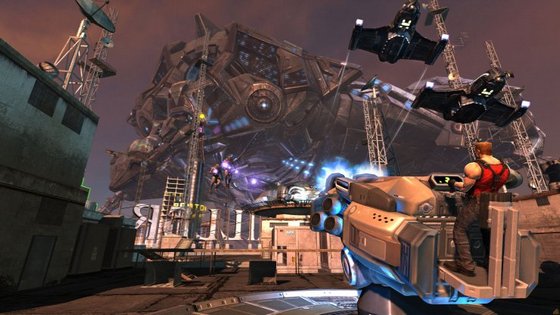 I'm coming to get the rest of you alien bastards!
Attempts to punctuate the monotony only succeed in replacing tedious combat with equally tedious ancillary gameplay. Lengthy driving sections promise open exploration, only to funnel you up makeshift ramps over precipices before corralling you back into combat arenas.
Puzzles never evolve beyond the obvious either. Nowhere more so than when shrunk down by alien technology into mini-Duke, where a go small, find hole, go big, open switch formula is repeated ad nauseum. But the worst of all is platforming – an utterly incongruous mechanic to FPSs that should have died with Turok some fifteen years ago, but is used over and over again here.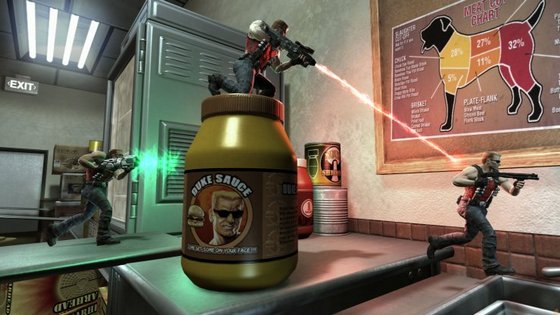 Mental, time for a shrink
Anyone hoping that Duke's legendary humour might enliven gameplay will be sorely disappointed. Granted, the game provides occasional chuckles. Even the most urbane gamer will struggle to keep a straight face during mini-Duke's shootout across the shelves of a diner storeroom, where cover comes in the form of ketchup and mustard tubs and cans of Heinous Anus' Baked Beans. And where else can you increase your health bar by getting sucked off through the glory hole of a squalid strip club toilet? – I have to test everything, you understand.
Sponsored: Minds Mastering Machines - Call for papers now open