EA: early Battlefield 3 buyers will gain no advantage
Bye-bye boycott?
EA has denied claims that gamers who pre-order Battlefield 3 will gain an advantage in play over those who don't.
Some fans began calling for an international boycott after reports surfaced that buyers who pre-order the game will gain unfair advantage thanks to the exclusive Battlefield 3 weaponry they will receive as an early -purchase incentive.
EA today dismissed the claims, stating on its Battlefield blog: "The three exclusive items in the Physical Warfare Pack were specifically chosen not to be overpowered or imbalance or break the game in any way. Owning these items will give you a more varied arsenal, but it will not give you a significant advantage on the battlefield."
Those who take up the offer will also be given the first DLC pack for free, which will be released publicly at a later date.
No need to panic after all. Boycott over.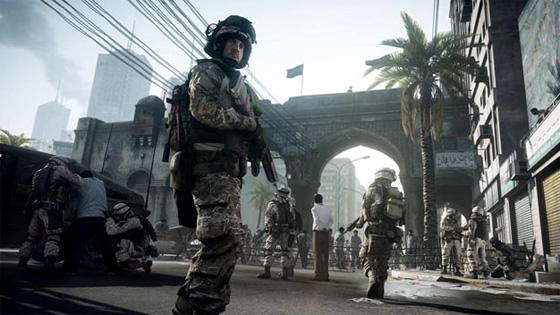 Back on track
Meanwhile, EA has continued to beef with Activision's Modern Warfare, saying the E3 game show was "the beginning of the war".
Activision's Bobby Kotick had already thrown fuel on the fire by telling Reuters: "I can't objectively tell you what I think of other products until I see them. Battlefield I've only seen on a PC and nobody's seen it on a console yet. Most of our consumers play games on a console. Until I see it on a console, I wouldn't be objective on commenting on it."
EA chief John Riccitiello returned fire: "The very fact that he's trying to cast doubt on our game is a perfect example of how we got his goat. In terms of where this goes, we think our PS3 game is better than their Xbox game and our PC game is better than their PC game.
"If that's all he's got to say, it's obviously going to evaporate as we launch all three. If you went to our press conference, you saw the PS3 footage and the Xbox footage. If Bobby thinks that is PC footage, he's in real trouble."
According to CVG, Kotick was refused access to EA's showing of Battlefield 3 at the expo and had to stay in-line like everyone else.
The spat is likely to escalate over the coming months as the games respective releases draw nearer. We'll try not to bore you too much with any petty quarrels, though, unless it starts getting brutal, and thus, much more fun.
Battlefield 3 is out 28 October, just over a week before the release of its popular rival. ®
Sponsored: Minds Mastering Machines - Call for papers now open