Motorola Atrix dual-core Android smartphone
Docks and slots for all occasions
Review The Atrix is Motorola's first dual-core handset and has big ambitions to be your one and only connected device. It's available with a set of accessories that can turn it into both your laptop and media centre – a PC in your pocket.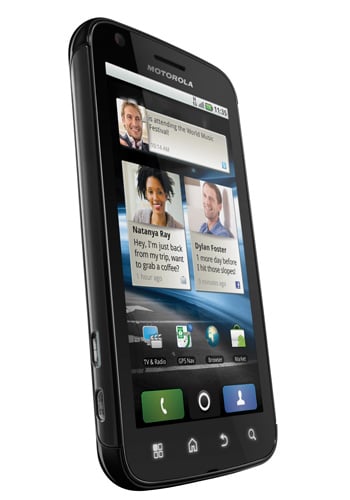 Unplugged: Motorola's Atrix
Before we get to the accessories though, the basic Atrix is a good-looking, if slightly chunky sight in glossy black plastic, measuring 118 x 64 x11mm and 135g. The four standard Android buttons sit touch sensitively beneath the 4in screen and the sides feature volume buttons along with microUSB and mini HDMI ports, with a 3.5mm headphone jack on top.
On the back is the lens for the 5Mp camera with dual LED flash and a biometric fingerprint security pad, which doubles as the power/sleep button. You don't have to use it, but it's quicker than the password alternative, and seems to be fairly robust – it worked every time I brushed my finger across it, and clammed up when others tried it.
The 4in screen offers an impressive 960 x 540 resolution and looks deliciously sharp and clear. It's just a whisker behind the iPhone 4's 960 x 640-pixel resolution on paper, and the Apple fella's still has the edge, but only just.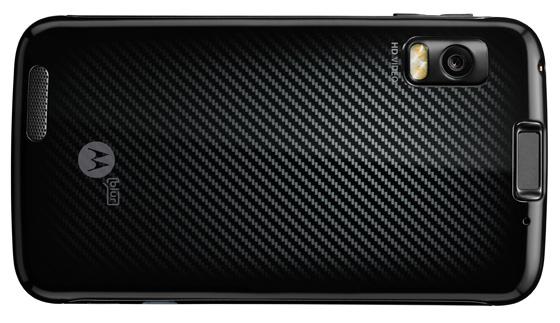 5Mp snapper with 720p video capture
The Atrix is running the 2.2 Froyo version of Android, which isn't the very latest, but 2.3's additions, such as SIP calling and NFC (Near Field Communication) will be of little use to most for now, and an update is apparently on the way later this year.
COMMENTS
Screwed it up...
1) Its Motorola
2) Locked down boot loader
3) Cripled Ubuntu
4) Proprietary dock
Try again, and do it right:
1) Full Ubuntu, on HDMI out, without special connector
2) Bluetooth keyboard and mouse
3) Unlocked bootloader, modder friendly
4) Updates
5) No proprietary connector, dock
Galaxy S2? You mean this one?
http://www.reghardware.com/2011/05/18/review_samsung_galaxy_s_2_android_smartphone/
Can't work who Moto think the market for this is.....
The lapdock is £300 so it's not a casual purchase or one for anyone that's price sensitive. Most owners change their phone inside 2 years and I see no commitment from Motorola that this is an Apple dock type 'standard' yet that will work with all their phones (or even just an ongoing product line) so there's a high risk you have a £300 paperweight in 2 year's time*.
If you're NOT price sensitive then you'd just buy a Macbook Air - a fully functional computer that's actually *lighter* than the MotoDock and has a better battery life as well. Either way you need a tethering connection and your documents are presumably in the cloud anyway.
If you *are* price sensitive you'd buy either a netbook (£300 buys a decent enough Dell or Toshiba) or spend a bit £100 more and get an iPad. No bigger or heavier than the MotoDock
and give a decent battery life. Neither will be a worthless paperweight when you change your phone.
Moto can give the thing away, which might make you choose this phone over another, but surely that just cuts into their already slim margins in the Android phone market. Even if they did give me one for free how often am I actually going to choose to carry it over a proper laptop or fondleslab?
It's really no different to the old folding Targus keyboards for the Palm. Nice idea but rarely actually useful and redundant and worthless when the next gen Palm launched.
RE: Don't make me laugh
tru dat. i'm still on 2.1 with my Defy. we were promised an update to 2.2 about 6 months ago.
Don't make me laugh
an update to 2.3 will be coming later this year???? Yeah, right. This is Motorola we're talking about. If you aren't happy with what is on the phone, don't buy it. Motorola never deliver updates.