Panasonic Lumix DMC-GF3 MFT compact unveiled
This week's 'world's smallest' system camera
Sure, the touchscreen assists in the poking around for ISO settings and the like, but apart from one quick menu/function key, the lack of prod and twist instant gratification rather discourages it. This is getting to be standard fare for compact system cameras fighting out for the 'smallest' moniker, with Sony's NEX range delivering a similar paucity of pushbutton pleasure.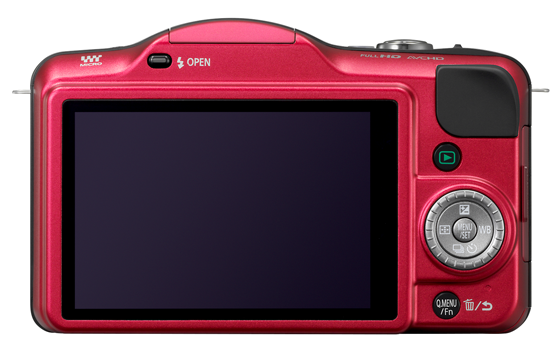 Menu driven: the touchscreen performs a range of duties
Along with the Samsung NX100, Olympus PEN models hold fast to the idea of enabling users to make tactile tweaks, and time will tell whether these companies will be rewarded for it. The situation seems akin to the menu driven digital synthesizers – such as Yamaha's classic DX7 – that appeared in the early 1980s, that wiped out the knob laden analogue instruments. Yet, these new models were so fatiguing to program, that users relied on preset sounds and soon got bored. It was only a matter of time before another wave of synths and controllers began to emerge to reinstate what had been lost.
With retro cameras gaining ground, and a price premium too (Fujifilm Finepix X100, anyone?), one can only hope that, as the bodies continue to shrink, there may be room for some useful dedicated controls. Perhaps then, the phrase 'most accessible' will replace 'smallest' in the quest for some world title.
Snapping with the 14mm wide-angle pancake lens on the front of the GF3 makes it so compact that it's easy to forget it's a system camera. Lightweight, unimposing and with 25fps AVCHD 1080i video recording under its belt too, the camera does inspire confidence, even if creativity is slightly hindered by the necessities of on-screen trawling. Add to that, you then have to remember what the display icons mean afterwards, so you know what settings are active. Yup, a lot of people will use this in the auto modes and be perfectly happy with the results.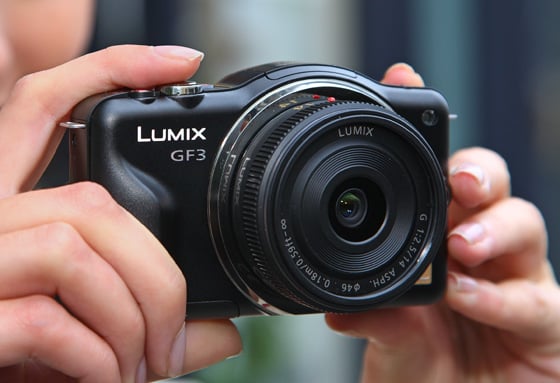 The world's smallest compact system camera, apparently
No doubt Panasonic would argue that there's always the G3 alternative, if fast access to modes is what you need. And I have to say, if you're anticipating expanding your lens count – which is the raison d'être of buying a CSC after all – and going to all the trouble of carrying around additional glass, then the compact form factor almost becomes irrelevant. You might as well get a G3 and have the EVF, articulating screen and the 16.1Mp sensor. That said, if you're likely to build up the system slowly or have a 'lens of the day' approach to shooting, then have a look at the sample shots – where the megapixel count meets compact convenience – and see where your loyalties lie.
Available soon, the DMC-GF3 with the 14-42mm kit lens costs £499, with the 14mm pancake lens £549, and with both lenses £629. The DMC-G3 costs £549 (body only) and £629 with the 14-42 lens kit. ®
Sponsored: Minds Mastering Machines - Call for papers now open