Seeing double
I found the Clear mode to be the best of these presets. The rest create obvious motion artefacts around certain moving objects, seen as a shimmering shadow. Clear is the least intrusive of the bunch. My preferred option though, would be to choose the Custom setting and then manually set Blur Reduction between five and seven, and Judder Reduction at zero. This effectively removes all motion artefacts.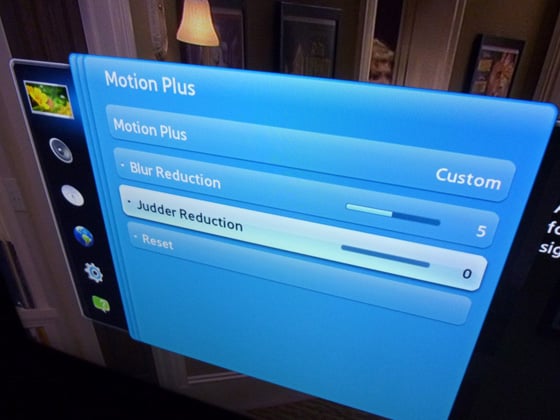 Motion Plus and Judder Reduction tweaks
As a 3D TV, the UE40D6530 is on par with Samsung screens from last year. The TV gets brownie points for good colour fidelity and through-the-glasses brightness, but earns demerits for crosstalk problems.
The severity of this double imaging does rather depend on the source. Blu-ray discs I know to be troublesome looked predictably grim, while better authored fare was more watchable. There are 3D Perspective and 3D Optimisation controls, but they don't really provide any solutions.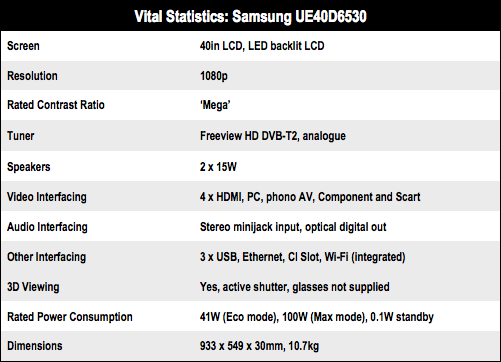 COMMENTS
Low Score
80% is not a low score. You've been conditioned by years of high marking in the media.
If you use a rating system of 0-100% then surely an average product should get 50%? It utterly devalues the scoring system to suggest anything above 75% should be for anything other than exceptional products.
You can't just go around throwing around high scores with abandon otherwise when you do come across a truly great screen what do you do?
It's like GCSE's. They got so devalued that they had to start giving A Star marks because the threshold to get A's was too low but they couldn't hurt the poor little darlings feelings.
Nice box
shame about the content (programs that is)
LCD
This *is* an LCD TV. It merely has led backlighting, and not even RGB LEDs...
3D seems to be crap
Seems that 3D gets the thumbs down for most TVs these days, which is fair given that the price of the TV appears to double with a feature that's nothing more than a gimmick right now. A slightly older 40" Samsung 1080p with most of the same features would cost no more than $800 (about 500 quid), and probably a lot less if you wait for a decent sale. If you went for LCD rather than LED then you could get a 46" version for that same $800, but you'd also probably be missing most of the internet features too.
Reg Prices and real prices
...are often unrelated, even the Reg often admits the "value on the street" is lower than the RRP they normally quote, sometimes to the tune of a few hundred quid (or one Helen Wood session in alternate Reg units)