Samsung UE40D6530 LED 3D TV
Cut-price super-skinny telly with all the trimmings
Review When it comes to features, Samsung's UE40D6530 40in LED telly doesn't skimp on anything much. Freeview HD, 3D, Video on Demand, Skype, integrated web browser, social media apps, media streaming, PVR recording to external hard drive – it's all here. This isn't so much a TV as an all in one entertainment centre. And priced at £1099, Samsung is clearly planning to shift a lot of these puppies.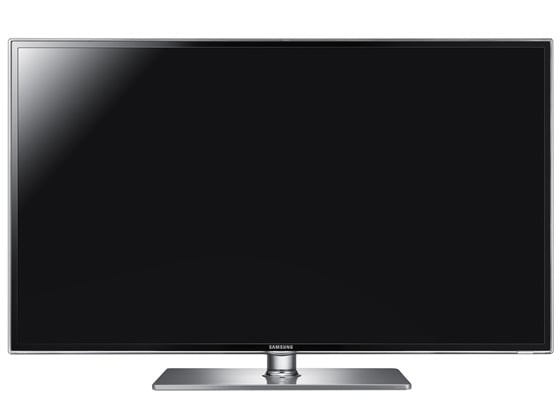 Entertaining concept: Samsung's UE40D6530
Too slim for traditional side-mounted inputs, connectivity is all confined to the back panel. There are four HDMI inputs, a PC input, Scart and component – both of which have to be using supplied adaptors – three USBs, Ethernet LAN and a digital audio optical output. Samsung has conveniently chosen to opt for integrated Wi-Fi, so there's no need for a separate dongle.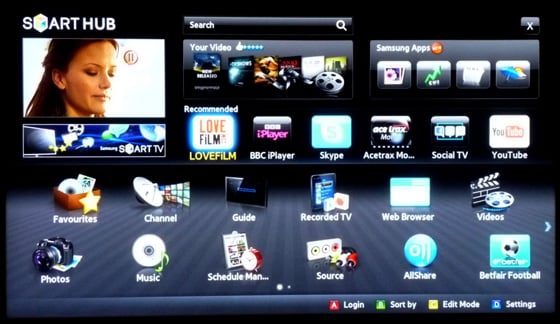 TV portal options
One compelling reason to buy this screen is undoubtedly the connected Smart Hub portal. It's from here you can access VOD services such as YouTube, LoveFilm, BBC iPlayer, Acetrax and PictureBox. This isn't the regular, standard definition YouTube API. This TV supports the new YouTube Leanback service, which delivers the highest quality stream available.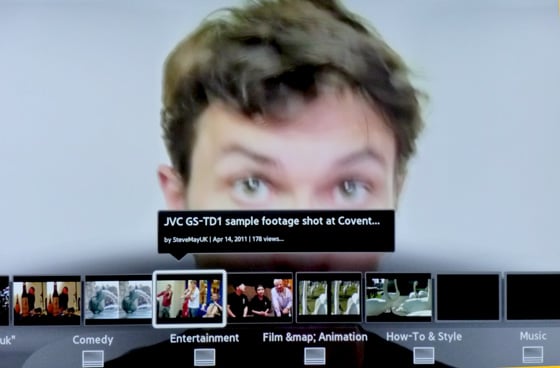 YouTube interface
I did a side by side comparison between the D6530 and Panasonic's rival TX-P42VT30, using the snappily-entitled clip JVC GS-TD1 sample footage shot at Covent Garden. The VT30's YouTube app played the clip in 380p and looked blocky and generally unpleasant; the Samsung's Leanback implementation accessed the 720p stream, giving an altogether smoother and more detailed presentation.
COMMENTS
Low Score
80% is not a low score. You've been conditioned by years of high marking in the media.
If you use a rating system of 0-100% then surely an average product should get 50%? It utterly devalues the scoring system to suggest anything above 75% should be for anything other than exceptional products.
You can't just go around throwing around high scores with abandon otherwise when you do come across a truly great screen what do you do?
It's like GCSE's. They got so devalued that they had to start giving A Star marks because the threshold to get A's was too low but they couldn't hurt the poor little darlings feelings.
Nice box
shame about the content (programs that is)
LCD
This *is* an LCD TV. It merely has led backlighting, and not even RGB LEDs...
3D seems to be crap
Seems that 3D gets the thumbs down for most TVs these days, which is fair given that the price of the TV appears to double with a feature that's nothing more than a gimmick right now. A slightly older 40" Samsung 1080p with most of the same features would cost no more than $800 (about 500 quid), and probably a lot less if you wait for a decent sale. If you went for LCD rather than LED then you could get a 46" version for that same $800, but you'd also probably be missing most of the internet features too.
Reg Prices and real prices
...are often unrelated, even the Reg often admits the "value on the street" is lower than the RRP they normally quote, sometimes to the tune of a few hundred quid (or one Helen Wood session in alternate Reg units)