Red Faction: Armageddon
Appetite for destruction
Story bored
By creating a more linear game, Volition guides us more tightly through its sub Ghosts of Mars narrative. There are loads of cut-scenes with some pretty ropey humour and acting, all of which left me thinking, if you're going to weave a disorientating story, don't make us stick around and force us to watch it. For a game, which is all about destruction, the large areas where we ride crazy vehicles and can do some serious damage are too few and far between.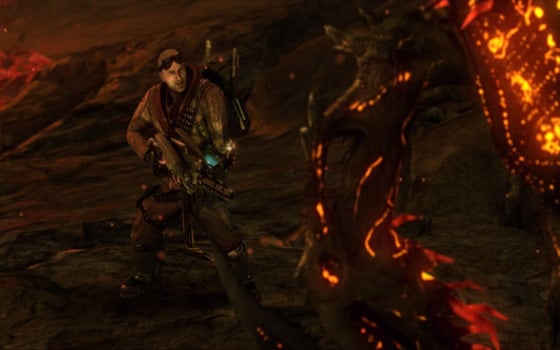 Say hello to my little friend...
One of the things I liked best about Armageddon was Ruin. This is a timed challenge where you get to put some of that Geo tech to use in one big smash 'em up. This is the kind of thing that would work so well as part of the single player mode and shows off why Red Faction just keeps coming back with it's premise of it's fun to break stuff.
If you're all about the competitive multi player, then I think your going to be a little disappointed with Volition's new four player co-operative mode, called Infestation. This has loads of content with eight missions and, if your not too worried about ranking, it's pretty entertaining. It is all about surviving waves of enemies, whether just for the hell of it or defending an outpost. Indeed, these waves gave me some serious time and space to get to grips with my range of weapons and put them to good use.
Unfortunately, my magnet gun was just too unwieldy for these hordes and I had to stick to impulse blasts from my nano forge and traditional firepower. I found the mainly small, dark, claustrophobic maps ramped up not only the action but our co-operation. OMG, watch out for that berserker!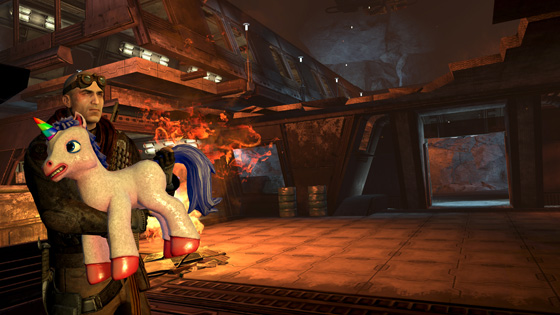 Hands off, it's my little pony
Verdict
The fact that Red Faction: Armageddon looks polished, if a little fatigued, is a big selling point for me. Add to that the range of exciting abilities and crazy sick-ass weapons, and I had the ingredients for some serious fun. Yet, where this game doesn't fulfil its potential is the fact you instantly miss the sandbox feel of an open world – a place where you can step out of the nagging game narrative to just smash random shit up. ®
More Games Reviews

Hunted:
The Demons Forge
LA Noire
Dirt 3
Brink
Darkspore
Sponsored: Minds Mastering Machines - Call for papers now open

Red Faction: Armageddon
A great action packed game that misses the flexibility and range that made its predecessor prodigious. Available on PC (tested), Xbox 360 and PS3.