Original URL: http://www.theregister.co.uk/2011/06/09/review_htc_flyer_android_tablet/
HTC Flyer 7in Android tablet
Palm pilot?
Posted in Tablets, 9th June 2011 06:00 GMT
Watch Now : Virtual Machine Movement with Hyper-V
Review The arrival of a tablet from HTC, the company that has run the furthest and fastest since picking up the Android ball was always going to be something of a Big Deal but in some ways the new Flyer is a surprisingly odd fish.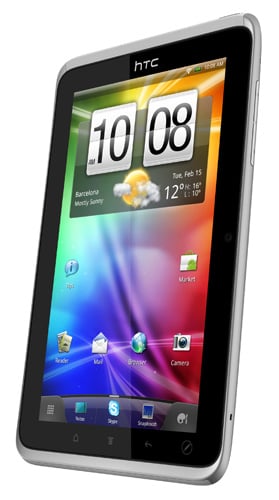 In-flight entertainment: HTC's Flyer
To start with it doesn't run Honeycomb but Gingerbread. Personally, I'm inclined to think Honeycomb has been released into the wild a bit half-baked, so this may be a smart move on the company's part. Indeed, the Android 2.3 OS is clothed in the always impressive HTC Sense overlay.
Indeed, it would have been nice to see Sense 3.0 on the Flyer rather than 2.1 but I can understand why HTC has kept its powder dry for the Sensation handset. Even so, some updates have been added for the Tablet version UI, such as the endless loop between home screens and the 3D carousel transitions. Still, if you are desperate for Android 3.1, HTC has said that the Flyer will get an update to Honeycomb "shortly after launch [1]".
The Flyer also bucks the current trend for dual-core chips in favour of a 1.5GHz single-core ARMv7 CPU with 1GB of RAM. Lack of cores to one side, the Flyer goes like the clappers. Don't take my word for it, just ponder the Quadrant Standard score of 1896.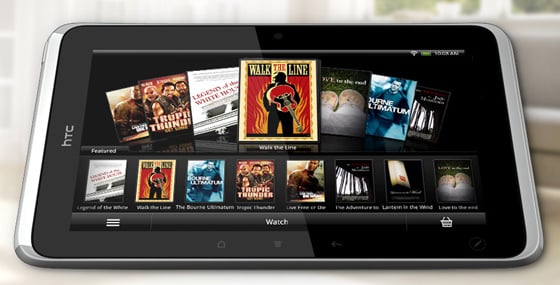 The single core Qualcomm CPU proved nifty enough, notching up a respectable Quadrant benchmark score
Physically, the Flyer is everything you would expect from HTC. It's solid, curvaceous, and an absolute joy to hold and use, thanks to its largely aluminium and glass construction. At 420g it's a little heavier than the Samsung Galaxy Tab, but nearly 200g lighter than the iPad2.
---
Slate of hand
The SIM card and MicroSD slots are cunningly hidden under the white camera cover, and without referring to the user guide, you'd never guess. The rear is also home to couple of very fine speakers.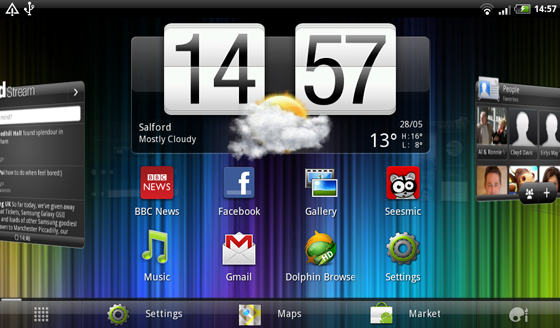 Landscape homescreen view
Flip the Flyer onto its side and the capacitive Android buttons change position to stay below the screen. Yes, I know we have seen something similar on HTC's new S-series phones but it still impresses the rank and file.
Wireless connectivity is taken care of with Bluetooth 3.0, 802.11n Wi-Fi and/or by a standard 3G Sim card. There's no telephone dialler though – the Sim is for data and SMS messages only. If you want to chat using the bundled 3.5mm head-set or mic you'll need to instal Skype or similar.
There is nothing technically unusual about the Flyer's 1024 x 600 LCD glass screen but it's pin sharp, very colourful and has an oleophobic coating. My review device had 32GB of storage of which around 8GB was free for system - i.e. apps - storage leaving me with 20GB for files and media. The USB port is HTC's own ExtMicro type but you get a dedicated mains adapter as well as a USB cable so you can charge from the wall or a PC and have a separate cable for each.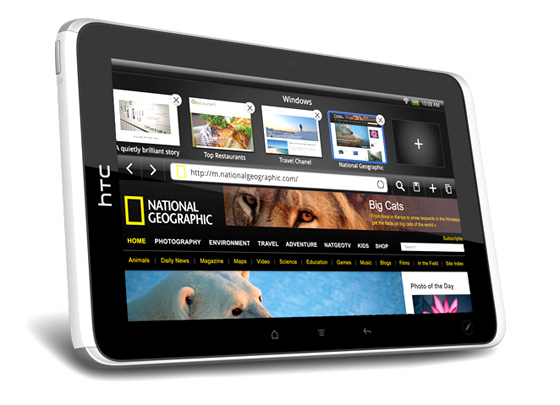 No dedicated HDMI output but Apple style, there is an optional adapter for a price
The Flyer does suffer from one serious omission – there's no HDMI socket. Apparently HTC will be producing a £25 adaptor cable in due course, so the USB port can double up, but that's aping the very worst of Apple's business practices. It's a double shame because the Flyer takes 720p video in its stride, even 720p YouTube streams and MKV-wrapped files, once I had installed V Player.
---
Pen pal
Something the Flyer has, that the tablets from Samsung, Asus, Apple and the rest of the boys in the band don't, is a stylus and for once this is a Very Good Thing. The Flyer's battery-powered pen and HTC Scribe software lets you doodle on screen-grabs or make notes and drawings which can then be saved to the cloud using Evernote. Hopefully other apps like Catch Notes [2] will be supported in due course.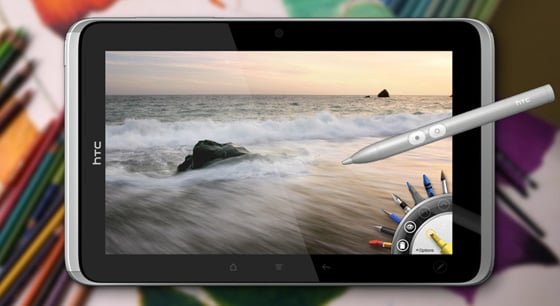 The pen is mightier than the pinkie..?
The stylus can be set to imitate pen, pencil, felt-pip or paint brush and you can vary the nib thickness and colour making it altogether rather versatile. The buttons on the pen let you swap between write and erase. There's no slot for the stylus – lose it and you are looking at £48 for a new one – but included with the Flyer is a rather smart wallet that has a pen-holder stitched to it.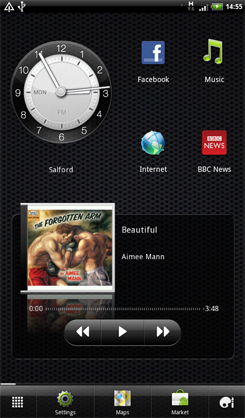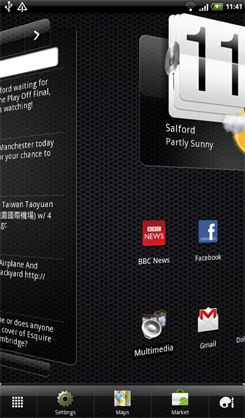 Home screen and transition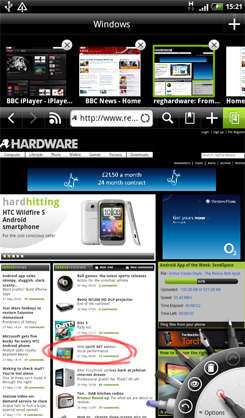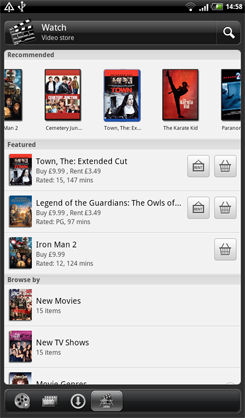 Highlighting pages with the Stock browser's pen menu and tabs. Viewing the Watch film service – a bit pricey though
Front and rear cameras come in at 1.3 and 5Mp, respectively. The former is mounted above the screen when the device is held in landscape, but since the Flyer runs Android 2.3.3, rather than 2.3.4, you can't use the webcam to take advantage of Google Talk's recently announced support of video chat. Qik [3] worked a treat though, so it's not the end of the world.
---
Location, location
Featuring GPS and the full range of Google apps, including Android Market and Maps, the Flyer can be used as a satnav out-of-the-box. All the 50-odd apps I use on my Desire HD installed without a hitch, even if some were clearly not optimised for the higher screen resolution.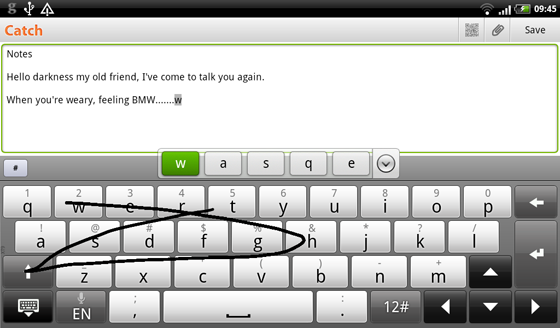 Keyboard now has trace
Market apps aside, HTC has loaded the Flyer with some useful software. The Reader e-Book app now has iPad-esque page turn transitions and there is a movie rental/purchase service called Watch. The already fine HTC keyboard has been updated with trace/swipe.
Moreover, Sense remains by far the most usable system for tying your Twitter, Facebook, LinkedIn and Flikr accounts to your phonebook. This, along with the 80-odd bundled widgets, is almost reason enough to buy HTC.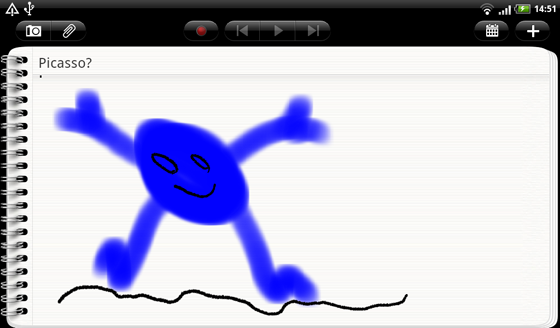 Doodling optional
The 4,000mAh capacity of the battery is another spec shared with Samsung's seven-incher. Continuously looping an H.264 video file, I managed four and a half hours from a charge. Heavy, regular use with the Wi-Fi and cellular radios left on, ensured I was heading to the mains socket every 36 hours or so.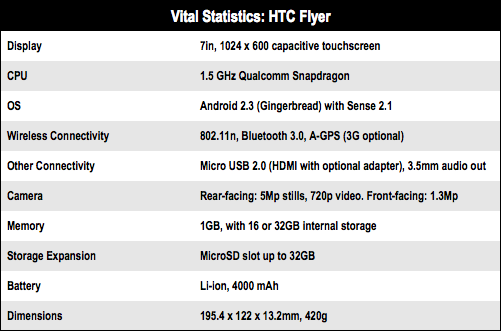 ---
High flyer
If the silver lining has a cloud, then it's the price. At £599, the 32GB Wi-Fi/3G version is £20 more than the equivalent Apple iPad, which itself is hardly a bargain. The 16GB Wi-Fi model at £480 is £100 more than the Asus Eee Pad Transformer, and that has a 10.1in screen. Gulp.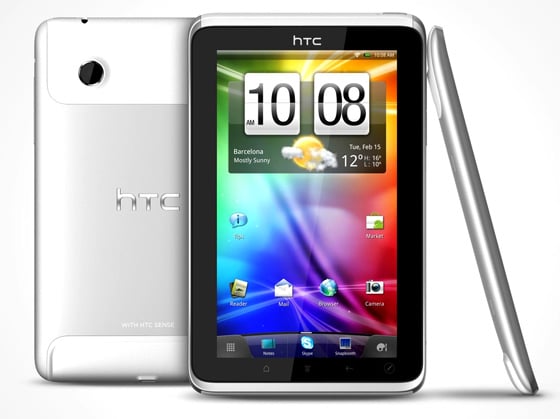 A quality performer with a price to match
Verdict
In a nutshell, very good but very expensive sums up the Flyer. HTC clearly thinks it can now charge a premium for its devices and adapter cables – a policy I take issue with no matter what the brand or logo. Still, if you have the money you won't be disappointed. If you don't have the money wait for a few months until the 10in HTC Puccini tablet [4] arrives – I'm betting the price of the Flyer will float gently earthwards then. ®
More Tablet Reviews

Hannspree
Hannspad [5]
Acer
Iconia Tab
A500 [6]
Archos
70 [7]
RIM
BlackBerry PlayBook [8]
Motorola
Xoom [9]