HTC Flyer 7in Android tablet
Palm pilot?
Review The arrival of a tablet from HTC, the company that has run the furthest and fastest since picking up the Android ball was always going to be something of a Big Deal but in some ways the new Flyer is a surprisingly odd fish.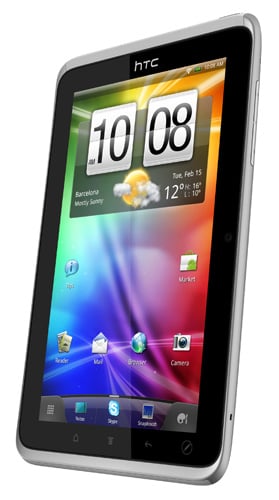 In-flight entertainment: HTC's Flyer
To start with it doesn't run Honeycomb but Gingerbread. Personally, I'm inclined to think Honeycomb has been released into the wild a bit half-baked, so this may be a smart move on the company's part. Indeed, the Android 2.3 OS is clothed in the always impressive HTC Sense overlay.
Indeed, it would have been nice to see Sense 3.0 on the Flyer rather than 2.1 but I can understand why HTC has kept its powder dry for the Sensation handset. Even so, some updates have been added for the Tablet version UI, such as the endless loop between home screens and the 3D carousel transitions. Still, if you are desperate for Android 3.1, HTC has said that the Flyer will get an update to Honeycomb "shortly after launch".
The Flyer also bucks the current trend for dual-core chips in favour of a 1.5GHz single-core ARMv7 CPU with 1GB of RAM. Lack of cores to one side, the Flyer goes like the clappers. Don't take my word for it, just ponder the Quadrant Standard score of 1896.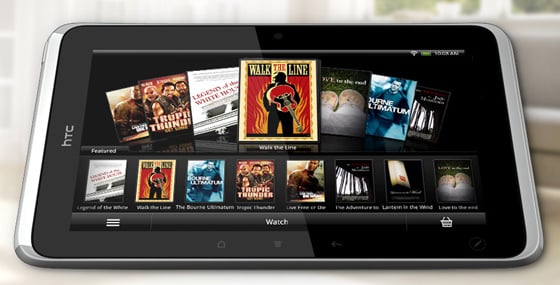 The single core Qualcomm CPU proved nifty enough, notching up a respectable Quadrant benchmark score
Physically, the Flyer is everything you would expect from HTC. It's solid, curvaceous, and an absolute joy to hold and use, thanks to its largely aluminium and glass construction. At 420g it's a little heavier than the Samsung Galaxy Tab, but nearly 200g lighter than the iPad2.
COMMENTS
Way too much money
Cut the price in half and it starts to look like good value. At £480 for wifi only it is stupid expensive and is doomed.
Hmmm
I am sure if you can afford it, it will leave you in a blissful state of post Metrosexual wank-spasm.
Anecdotally confirmed
I was on a flight back from NZ with an iPad, via Thailand. I managed to get through 5 of the six parts of the SE version of the Lord Of The Rings trilogy and about an hour into the final part before we were coming into land at London. During the brief stopover at Thailand, I did a bit of e-mail and web browsing over a 2G SIM (no 3G there) for about half an hour. I also spent around an hour listening to music when I was trying to get some sleep.
Both were night flights and obviously while in the plane the iPad was in flight mode. The backlight was turned low - about 25% - since the plane was dark anyway. Nonetheless, sitting there watching movies, listening to music and with the half hour non-flight-mode 2G session, I must have used at least 12 hours of battery. According to the meter there was still 15% charge left when I turned it off for landing and IME the battery indicator is fairly linear and accurate in its behaviour.
That's the closest to a continuous playback stress test I've put it through. Even so, heavy use since I got it last year has drilled home one thing that's the stand-out feature of the device for me, as someone who hates having to keep charging things: The iPad battery life is absolutely outstanding. It can be completely relied upon to last a full day without charge under heavy use.
Nope
The bottom line is this is a toy and you have to draw a line somewhere. Very few people actually "need" a device like this. People often conflate "want" with "need".
Bullying HTC into paying you because you failed at selling your own product is unconscionable.
I will never "need" anything enough to be enabler for that behaviour.
RE: Why is it muppetry?
But let's say, hypothetically, that the Flyer happens to be the device that meets your needs perfectly. Isn't avoiding it so MS don't get $5 a classic case of cutting off your nose to spite your face?