Unique imagery of Shuttle docked to ISS released
First and last chance to see
Vid+Pic There's been something of a wait for it, but unique imagery showing the International Space Station with a Space Shuttle docked has now been released.
The vid above and photo below were taken from a Soyuz spacecraft which departed the station on 23 May carrying Russian cosmonaut Dmitry Kondratyev, NASA astronaut Cady Coleman and European Space Agency astronaut Paolo Nespoli back to Earth. Once their vehicle was about 600 feet from the station, Mission Control Moscow commanded the station to rotate through 130 degrees. This allowed Nespoli to capture photographs and video of shuttle Endeavour docked to the station during her final mission, which completed on 1 June.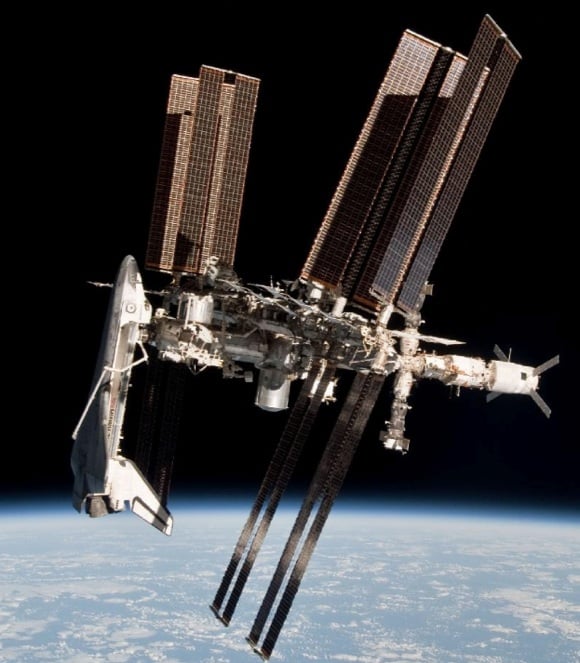 Last chance to see ...
Reportedly the delay in releasing the imagery was due to the fact that Soyuz commander Kondratyev ordered Nespoli to leave the data card containing the files in the Soyuz capsule after it set down on the steppes of Kazakhstan, rather than taking it with him as he left. The actual camera used by Nespoli remained in the Soyuz' habitation module from which he took the pictures, and was destroyed when the hab module was jettisoned, re-entered atmosphere and burned up.
The chance to snap a Shuttle docked at the ISS from a nearby spacecraft had not arisen before, and won't again with the Shuttle era now almost over. Just one last flight, by Shuttle Atlantis, is set to take place.
More NASA pics can be found here. ®
Sponsored: Minds Mastering Machines - Call for papers now open