Hannspree Hannspad 10.1in Android tablet
Finger flickin' good
Spreken ze deutsch?
Hannspree includes a respectable set of apps to get you started, with key apps such as the e-mail program, web browser, and the music and video players located in a dock area at the bottom of the main Home screen. You can also connect to Hannspree's own App Centre to buy and download additional apps.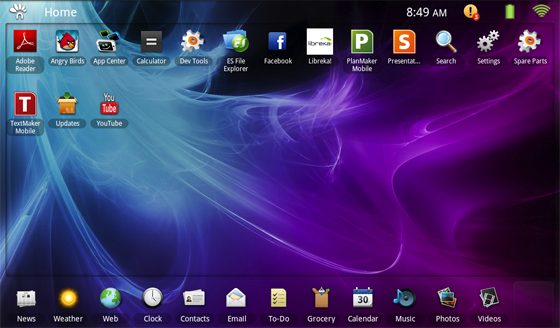 Home screen
The only glitch here was that our review unit was shipped from Germany and its e-Book app was still in German. However, Hannspree assured us that the app will be translated for the tablet's UK release.
The touch-screen controls aren't quite as smoothly responsive as those of the iPad or some of the more expensive Android tablets – you definitely need to apply a little more pressure when tapping on icons to launch apps, or when typing with the on-screen keyboard – but it's not so bad that this becomes a major irritant. You can also use multi-touch gestures, such as 'pinching' with two fingers to zoom in and out when viewing web pages and photos.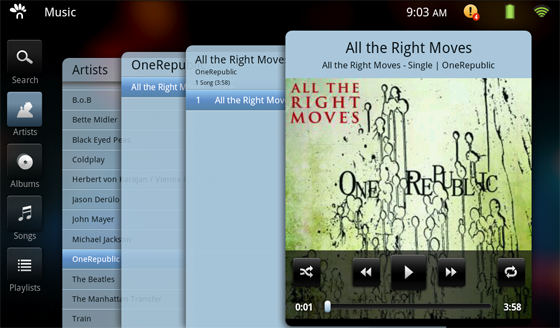 Music player
The slight sluggishness of the touch-screen controls was my only minor complaint, and the various apps all seem to work quite effectively. The widescreen aspect ratio works well for watching video and browsing web pages. I was also pleased to see that the Music app could handle AAC music files from iTunes on my Mac – even though that format isn't mentioned on the tablet's spec sheet.