Most gamers are middle-aged adults: FACT
Us lot, basically
Kids love videogames, it goes without saying. However, according to a new study, there are more adults out there playing them, with the average gamer today almost 40 years old.
The report, 2011 Essential Facts About the Computer and Video Game Industry, claims the average age of game players today is 37, while the average age of the purchaser is slightly higher, at 41. A result of parental funding, perhaps.
In fact, 45 per cent of parents report playing videogames with their kids on a weekly basis, and 68 per cent of them reckon it stimulates and educates their child. It isn't all dads, either - 42 per cent of all gamers are women.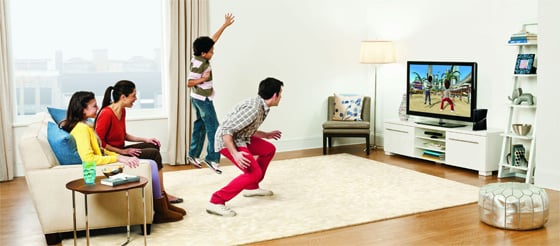 Fun for all the family
The study was conducted by the US Entertainment Software Association and released the E3 Expo in LA this week.
It also reports how consumers spent a whopping $25.1bn in the US alone on game content, hardware and accessories last year.
Perhaps game studios should focus on an older demographic for a change, and give sites like Reg Hardware - where we have the ideal average reader age - a lot more love. Oh, and an all-expenses-paid ticket to next year's E3 would be nice too... ®
COMMENTS
Maybe Not So Bad
Sure it may be video games but parents spending time with their children is still a good thing. It may not be as cool as going for a hike or playing a "real" game like Risk or Monopoly but any activity that encourages family members to interact is positive.
"real" parenting?
what is that supposed to mean? Playing videogames with your kids is a lot more stimulating and educational than sitting watching "britains got talent" with them.
The idea that "real" parents don't game with their kids is bollocks. Real parents engage with their children, if the kids love gaming then join in with them. They'll think you're a lot cooler (which means they be more open with you) and you can make sure they understand the difference between a headshot in a game and in real life.
makes sense...
I'm 40 and started gaming in the late 70's when it all started, since then I've been gaming on just about every format that's come and gone. I've probably 'wasted' years of my time gaming but for me I've enjoyed the whole scene, its perfect non-chemically induced escapism.
I still find time to fit gaming in between work, wife and kids, to be honest I'll probably never give it up even when I'm in the old folks home waiting for the reaper.
"US LOT"?
I'm not a middle aged adult.
I'm old. And I'm still trying to work out what I want to do when I grow up.
(icon identifies what I do when you lot are playing computer games)
Least of two evils
Do you prefer having your children stuck in front of a game, or in front of the TV?