Super Micro says MicroClouds will rain down in July
Packs them in for micro server preview
The first machines, called the SYS-5037MC-H8TR, come in a 3U chassis that has the disk drives in the front and the server trays in the back. Generally speaking, you always want to pull the coldest air over the disks first, since they are more susceptible to heat than processors and memory. Although, having said that, a number of micro server designs are putting disks on the back of the tray and integrated on the tray itself. Super Micro has decided that it is better to have hot-plug disks in the front that can be replaced independently of the servers. Similarly, server trays can be slid out and repaired or replaced in the event of a failure independently of the disks.
The MicroCloud chassis has room for sixteen hot-swap, 3.5-inch SATA drives in the front and eight hot-plug server trays and two 1,620 watt power supplies in the back. Those power supplies are rated at 94 per cent efficiency.
The cloudy server is based on Super Micro's own MB-X9SCD-F motherboard, which is designed for the Xeon E3-1200 processors and the "Cougar Point" C204 chipset from Intel. The system supports up to 32GB of main memory for the single socket using 8GB memory sticks, which can run at 1.07GHz or 1.33GHz. Skinnier 1GB, 2GB, and 4GB memory sticks are also supported. Each mobo has two 6Gb/sec SATA ports for the disks, two Gigabit Ethernet ports implemented using Intel's 82580 chip, and one dedicated LAN port for IMPI remote management of the nodes. The server tray has a single PCI-Express 2.0 x8 low-profile expansion slot that comes off the rise card and another x8 slot that is used by the Intel Ethernet card. The disks can be mirrored with RAID 1 mirroring if customers want to do that.
Here's what the MB-X9SCD-F mobo looks like: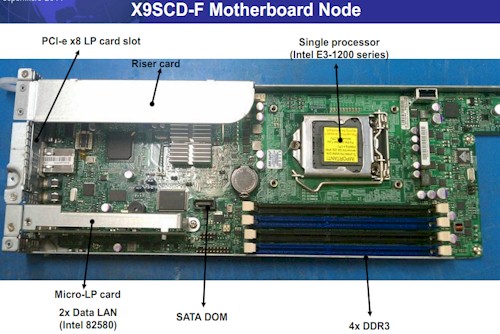 The spec sheet for the forthcoming MicroCloud machine says that the Socket-H2 socket on the board, which is Intel's LGA-1155 socket if you track the name that way, can support the Xeon E3-1200 processors or the Sandy Bridge variants of the Core i3 processors for desktops that plug into the same H2 socket. It looks like the motherboard has two SATA 3.0 ports, which are used for the disks, as well as two legacy SATA 2.0 ports (running at 3Gb/sec) and a SATA DOM port for linking a flash module to the board.
The MicroCloud unit has four heavy duty 8 centimeter fans to pull air through the chassis and keep everything cool.
David Okada, a spokesman for Super Micro, tells El Reg that the MicroCloud machines are sampling to customers and OEM partners now, and will be generally available at the end of July. Pricing for the machines was not set as yet. While the MicroCloud decoder ring did not say this, Okada confirmed to El Reg that Super Micro will support processors from Advanced Micro Devices in the MicroClouds at some point in the future. ®
Sponsored: Minds Mastering Machines - Call for papers now open