Writing on the wall
The new software release, out this week, lets you create standard PDFs that do the same thing, and can be played back using the latest version of Adobe Reader 10 for Windows and Mac – no Linux release as yet. For e-mailing large PDF pencasts you can use Adobe's SendNow facility.
New too is the "launchline" feature. Draw a short line forward and back on the special paper and the pen goes into command mode. Write a command above the line – "e-mail", for instance – and the pen will pop up a menu on its 95 x 18 pixel OLED display for you to select an e-mail recipient from a list you've set up previously.
Choose the pages or sections of pages you want to e-mail (tap on pages, draw a circle round sections), and next time you dock the pen to the computer the e-mail will be sent off automatically. Similar launchline commands will upload the pen contents to Google Docs, Evernote or Facebook, and you can also set up your own shortcuts, for example "charlie" to send emails straight to a particular colleague, skipping the recipient menu.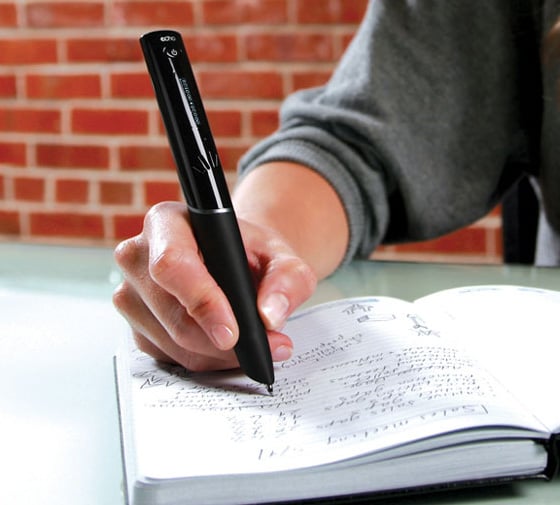 Not the most slimline of writing implements, but among the most sophisticated
This latest Echo comes at a great price, but you may need to add the binaural headset for another thirty quid. The special Anoto paper, printed with an almost invisible grid of micro-dots that tell the pen its exact location, costs only fractionally more than regular stationery, and if you have a 600dpi Postscript colour printer you can print your own.
Verdict
Is it an improvement on the Pulse? The new shape stops it rolling off the desk, but the microphone seems more sensitive to pen-on-paper scrape, and the small all-too-losable pen cap is a poor substitute for the Pulse's large "cigarcase" protector. While not a gadget that everyone will immediately get the point of, if you do get it then get it. Or even consider picking up the older Pulse at a bargain price. ®
More Gadget Reviews

Crystal Acoustics
PicoHD5.1
H2O
water-powered
radio
Eminent
iTrio EM7100
HDMI wireless sender
Apple
Digital AV
adapter
Zomm
wireless leash

Livescribe Echo Smartpen
Digital pen that not only writes but, using special paper, will interact with the audio recordings you can make with it.
COMMENTS
Great!`
Now I'm officially dumber than a pen.
OTOH, WANT!!!
Very well!
The quality of the writing was a concern for me as well but I found it to be an excellent writer. The cartridges are very small, however, so you will find comments around the web about them not lasting very long. I've not run one out yet, though. Obviously depends on how much one writes :)
Brilliant
That is a very good idea!
puchased!
Just bought one of these last week after a bit of deliberation. I'd considered using my IPAD for notes but realised that there really wasn't anything that was quite 'ready'.
In Australia the 4GB Echo is $250....so I just ordered off Amazon USA for about $150 :)
bluetooth handset?
From a quick skim of The Fine Article, it seems that the device would be better if it could record/playback the audio via a hands-free kit - probably pick up the sound better, and make it clearer when playing back.