Livescribe Echo Smartpen
The write stuff
Stroke of genius?
You soon start to discover the subtleties. For instance, make only skeleton notes, leaving plenty of white space on the page. Later, when you listen to the audio through the pen, elaborate on those notes in the spaces. Although you're not in (audio) record mode, these new penstrokes will be recorded in sync with the audio, giving you a finer grained index.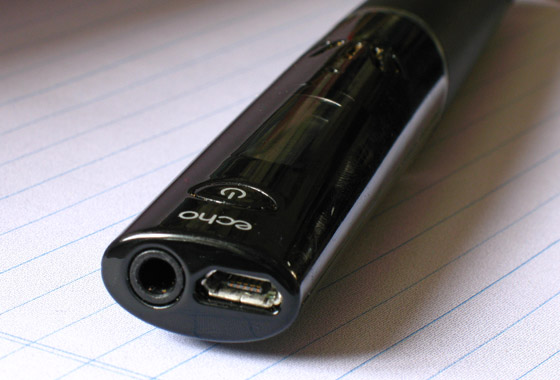 Micro USB and aundio interfacing in the top
My old Pulse has 1 GB of memory which was enough to see me through a month of meetings. Back then it cost around £150 and included a cunning pair of stereo earphones that also functioned as binaural microphones for large conferences or noisy surroundings.
A newer version, the Echo, arrived last year and is much the same deal technically, but a sleeker package, now with a standard 3.5mm audio jack and a micro USB connector to replace the proprietary PC connection cradle of the Pulse. Plumped up to 8GB the Echo cost just short of £200 once you'd also paid for the now cost-optional binaural headset.
Recently, Livescribe has decided to climb out of its niche and introduce an entry-level 2GB version of the Echo for a £100. More importantly perhaps, there are significant updates to the pen's firmware and the desktop software.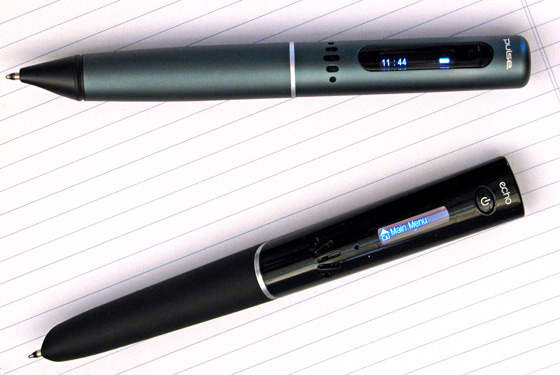 Worthy of note: Echo and Pulse
My old Pulse was always able to create "pencasts", live action audio-video files encapsulating the index feature that you can share with friends, colleagues or the world. But to run them recipients needed to download the free Livescribe Desktop software.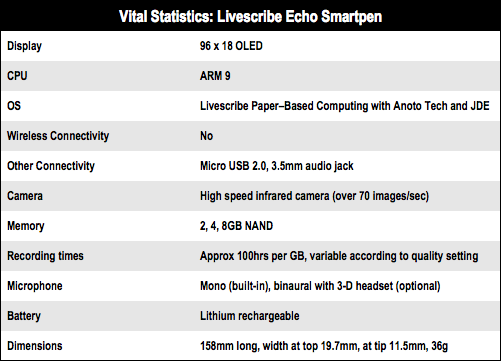 Sponsored: Minds Mastering Machines - Call for papers now open