Logitech Z906 5.1 surround speakers kit
A blast for PCs and consoles
À la mode
Also, the various options such as surround sound modes and audio inputs are selected using a single button each, so you have to cycle through a lot of options to get to what you want. This is especially tedious when selecting inputs.

Minimal controls can be a bit tedious as you cycle through modes to select input options
For instance, if you want to move from TV audio to music, you don't necessarily want to have to cycle though a Blu-ray player and games console to get there. Naturally there's also a remote included in case you want to kick back and control the system from a couch. Although this is small, the buttons are well proportioned and pleasingly responsive.
The Z906's built-in decoder works with Dolby Digital and DTS signals, but as there's no HDMI input, it doesn't support more advanced Blu-ray audio formats such as Dolby TrueHD or DTS-HD Master Audio, which is a bit of a shame. However, the decoder does have three modes for converting stereo streams into surround sound, and generally these produce pretty convincing and pleasing results. The 3D mode, for example, works well on TV soundtracks, while the 4.1 mode tends to sound best with music.
With a combined power of 500W, when you crank up the volume you'll find that the Z906 is more than loud enough to keep the neighbours awake at night. Refreshingly, it'll also go very loud before any distortion starts to creep in. Surround sound positioning is good too, with spot effects in games and movies convincingly rendered.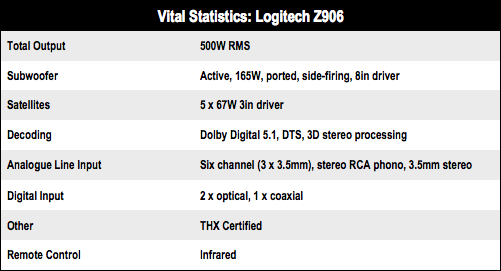 Sponsored: Minds Mastering Machines - Call for papers now open