Acer Iconia Tab A500 10in Android tablet
Well-connected Honeycomb fondleslab
Review PC manufacturers clearly haven't been reading the script. They were supposed to over-hype their forthcoming Android 3.0 tablets as iPad-killers (check!), miss their initial launch dates (check!) and then let us all down by delivering a hunk of poorly designed, obsolete tat (er…).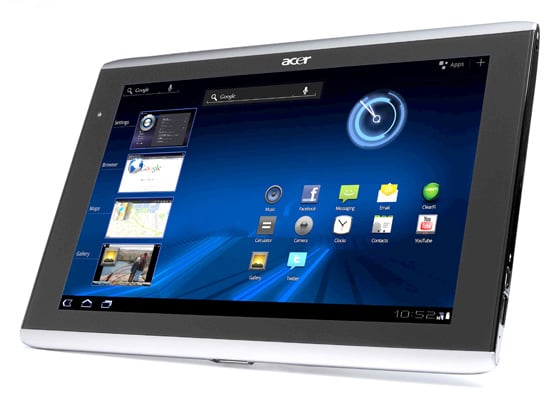 Acer's Iconia Tab A500: lighter than a Xoom, heavier than an iPad 2
Acer has spectacularly failed in that last endeavour. Its Iconia Tab A500 is a terrific piece of kit, well-connected, respectably powerful and boasting loads of potential. My work ensures that I'm surrounded by many different tablet and touchscreen devices all the time, but I missed the Iconia Tab A500 when it was sent back.
Lifted out of its box for the first time, the tablet is noticeably lighter than a Motorola Xoom, if still heavier than an Apple iPad 2. The compromise seems to be in the quality of the casing, with the Iconia Tab in cheap but sensible grey plastic compared to the guillotine blade-like weighty ruggedness of the all-black Xoom.
The rear of the case is gently bowed, not unlike the original iPad. Carry-sleeve designers don't like this much but it does make the tablet easy to pick up from a tabletop. The bezel around the screen at the front is quite broad, although some people appreciate having plenty of thumb space when holding the tablet book-fashion.

Left and right view: ports include a full-size USB 2.0 socket
Acer has put effort into cramming useful connectivity options into the device. The HDMI port is welcome, as is microUSB, but including a full-size, standard USB 2.0 port is inspired. Sure, anyone can go out a buy a microUSB-to-USB adapter cable, but making this unnecessary is a jolly friendly thing to do, in my opinion.
COMMENTS
Indeed.
That kitten is very cute. :)
This whole fondleslab thing is getting most vexing. It's a constant battle between want and don't need, and want is gaining ground...
awww....
That's a very cute kitten.
Also, tablet doesn't sound bad either, though I'm still holding out for a Transformer or Slider.
P.S. Like some of the new icons, still would like the dead vulture back.
Obviously
It's not from apple, that's both the better and the worse
Transformer
Just got mine today, Amazon shipped it yesterday. It is absolutely beautiful, the first time a new form factor has excited me for many long years in the industry. How it actually works out as a day-to-day machine, of course, remains to be seen.
GJC
I Own One!!!!!!!!!
i bought the 32gb model from pc world a month ago and i can tell you right now the battery-life is awesome and i cant put the thing down. the only thing i have to say im bothered about is that it has a locked bootloader which acer is resisting to unlock (i can see their reasons) but apart from that im deffo keeping the tablet and its my new best friend atm