eBay calls for cheap 4G networks
Tat bazaar turns operator lobbyist
eBay wants 4G radio spectrum to be cheap, claiming that mobile commerce is a lost opportunity in the UK, but the shopping portal's motives aren't quite as altruistic as they appear to be.
The UK regulator, Ofcom, is currently consulting on how best to flog off the old analogue TV frequencies, which are expected to end up carrying 4G telephony. eBay has responded to that consultation by calling for the regulator to focus on coverage and accessibility, so that private companies like eBay can focus on increasing revenue without having to worry about the operators wanting a slice.
Citing its own survey, eBay has created "m-commerce not-spots", and put 16 per cent of the UK population in them. Having polled 1,500 people, the company has decided that it is the high cost of mobile data that's putting shoppers off – as opposed to the availability of local shops or a reluctance to buy stuff from a seller identified only as "mrbigdeal".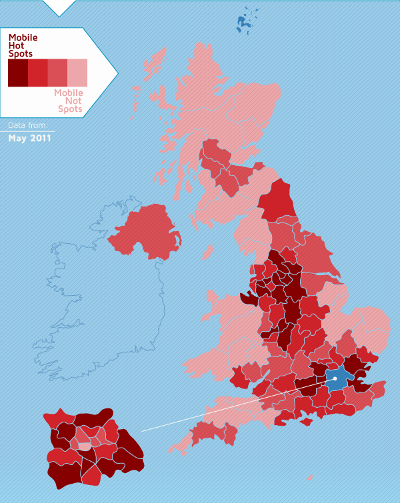 You don't want to shop at eBay? Your connectivity must be duff...
The map shows network coverage as deduced from the popularity of eBay mobile, on the premise that lack of connectivity is the only reason one would eschew eBay. The places with the least m-commerce – the Outer Hebrides and Lerwick – both still have local shops which provide a social hub as well as a provisioning service, but clearly that has nothing to do with them failing to use eBay mobile – that's because there isn't enough mobile coverage.
eBay expects to collect $4bn over the mobile networks around the world in 2011. If mobile operators end up paying through the nose for 4G spectrum, they could well decide they want a slice of that revenue, perhaps in exchange for priority access or similar arrangements. The same threat hangs over all the other mobile services, and motivates them to lobby hard for "net neutrality".
But eBay tells us that improved mobile broadband won't just help eBay, it will also benefit small businesses which depend on eBay to sell stuff, and, in a remarkable leap of logic, will benefit the High Street shops by encouraging spending in general. ®
Sponsored: Minds Mastering Machines - Call for papers now open