Apple sues teenager for white iPhone conversion kits
Lam to the slaughter
Apple has thrown the book at a student who last year sold White iPhone 4 conversion kits to those sick of waiting for an official product to surface.
In November 2010, with release dates for the white iPhone 4 constantly pushed back, one fanboy's impatience got the better of him. New York teen Fei Lam ordered parts from Apple manufacturer Foxconn and started making his own version, selling conversion kits online for a tidy profit.
Naturally, Apple wasn't too happy about the situation and soon sent a private investigator after the poor lad. Despite the subsequent removal of Lam's website, WhiteiPhone4Now.com, the company has now filed a law suit against the boy and his family.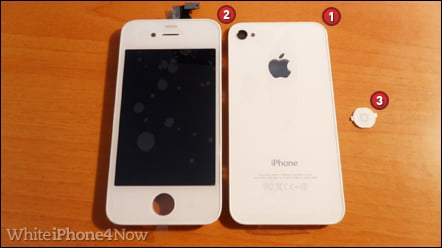 According to Apple, Lam infringed upon patents and violated its trademark, using deceptive practices in the creation and sale of the product. As Lam is only 17 years old, Apple is holding the boy's parents responsible.
Immediately after filing the lawsuit, Apple posted a voluntary request for dismissal, prompting speculation that a settlement had already been agreed.
In an instant message with Fast Company, Lam revealed he was unsure of the details, though, and would meet with Apple's legal team within the next month to clear things up and finally cool off the white heat. ®
COMMENTS
Wtf Apple!
He should have gone to the media! This is a 17 y/o ffs.
No other company would do this. Apple are as evil as the RIAA.
Does this seem strange?
Apple have been unable to produce a white iPhone 4 for months, yet, Foxconn, offical Apple supplier, were able to supply white iPhone4 parts, back in November.
Either these were very poor quality test samples, or Apple have been able to produce the holy grail of iPhone4's all along and have withheld them until sales started to level out, so that the super-fanbois can ditch their black ones and buy a white one... just months before the iPhone5 arrives.
No, Apple wouldn't do that, would they?
Re: Maybe but...
He bought the parts, and painted them, as I understand it. If the parts were stolen, that's a different matter. If Foxconn weren't meant to sell him the parts, that's more the fault of Foxconn than him.
If you bought the panel of a car, painted it a different colour and sold it, would you expect the car manufacturer to sue you?
Beware of calling other people "not exactly very bright" when it may also apply to yourself.
hardly your average 17 year old
He contacted and sourced the parts from Foxconn FFS, not something you'd expect an every day Joe to do. Still, Foxconn should be getting it in the neck imho.
@ AC Re: And, Kevin Gurney
I also refuse to buy Apple products. In fact I have a rule that they are not to even come into my house. A few friends had iPhones and weren't happy about leaving them in the car, but my house - my rules. After explaining a few things to them about Apple and its wannabe tyranny, I've successfully weaned four people off of Apple products and moved them onto other brands instead. I'm currently working on a fifth, and I will keep going after that.
Just because millions of fanbois keep on buying their products does not invalidate the actions of those of us who disagree with Apple's business models and general screw-everyone attitude. Each person I wean off of Apple is one less customer to buy their next iGadget. And I'm not alone, as evidenced by some of the comments here.
Remember the old Chinese philosophy of Sil Lum Tao - the great mountain made of many small pebbles. If enough people take a few pebbles each, eventually there is no mountain left.