Ball games: the latest sports releases
Action for the armchair athlete
Virtua Tennis 4

Sega might not milk the cash cow as ruthlessly as EA Sports, producing only four Virtua Tennis games in the past 12 years. But by rehashing the same core experience found in the Dreamcast original and camouflaging it in novelty, Virtua Tennis 4 nonetheless feels like a cynical retread.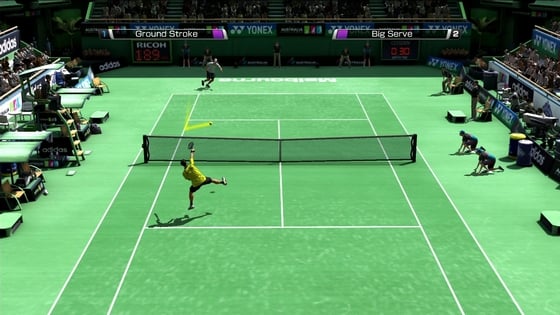 Large overheads
At its heart lies a decent but not spectacular arcade-style tennis game. The standard four shots: flat, slice, lob and top spin offer a reasonable range of stroke play, but length variation is largely absent. Almost every shot lands in the backcourt, bouncing to the perfect height for baseliners. And a lack of a drop-shot reduces net play further to simple overhead smashes. The varying styles of its roster of current world contenders goes some way to improve strategic play, but overall Virtua Tennis 4's gameplay lacks the depth of Top Spin 4.
It also lacks Top Spin 4's compulsive career mode. Instead, its World Tour mode is a bizarre Monopoly-style metagame, where progression is randomised by movement cards. Initially fun, the introduction of luck into career progression soon frustrates, as you miss tournaments and mini-games by chance alone.
Luckily, the standard Arcade mode, local singles and doubles matches, and comprehensive online play all make up for the World Tour's shortcomings. Less successful, however, is the integration of motion controls in the standalone Motion Play area.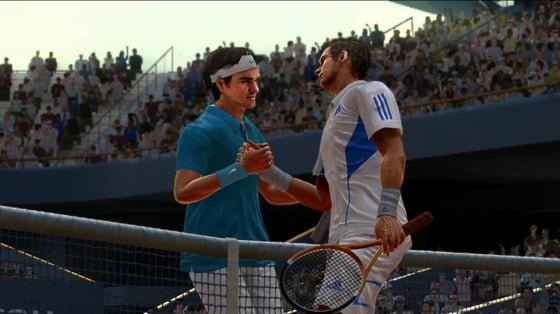 Let's discuss this over the net
More tech-demo than fully-realised mode, it's a much reduced version of the game, where the computer moves your player, leaving you to just return the ball. Shoddy enough on PS Move, where you can at least move towards the net and angle the controller to vary your stroke, it's even worse on Kinect, where the only skill is in the timing of your single stroke.
Virtua Tennis 4 is a competent enough copy of the franchise's own template. Its faults are many, and its nod to motion gaming perfunctory, but there's still a decent game at its core. Just like real tennis, you might not play it regularly, but it's certainly worth a trip to the courts via Blockbuster when Wimbledon swings around.

Reg Rating
65%
Price
£40
More Info
Sega's official Virtua Tennis 4 website
Sponsored: Minds Mastering Machines - Call for papers now open