Star Wars fanboys to restore Tatooine Homestead
Preservers of history
Last year a bunch of Star Wars fanbois went on a pilgrimage to the Lars homestead on Tatooine - or rather the part of Tunisia in which George Lucas shot the movies.
Many film buffs will remember the iconic 'igloo' as the moisture farm Luke Skywalker was raised on.
The igloo is still there, in Tunisa. Due to harsh winds and desert sun, it has taken quite a battering over the years, leaving the group concerned over its future. So a project has been set up to preserve and restore the site, so other enthusiasts could enjoy it for years to come.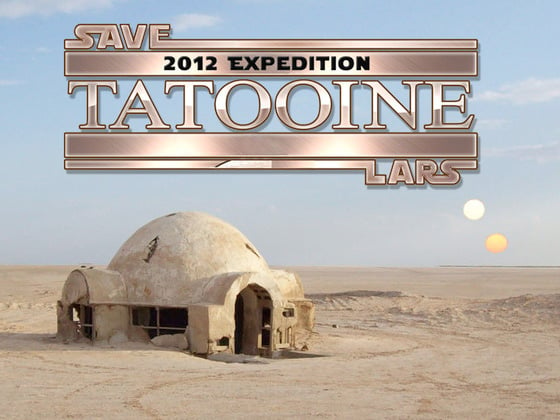 Save the Lars Homestead started a year ago this week, asking passionate fans to donate and save a piece of Sci-Fi history.
Fans keen to donate have a range of Star Wars themed packages to choose from, starting with a $2 'Womp Rat' donation and increasing to a $250 'Jedi Council' sum. At the time of writing, 325 'saviours' had donated and the group were just over $400 short of their $10,000 (£6000) target.
Once funds have been raised, the group's four founders will travel back to Tunisia armed with the necessary tools and plaster to begin the restoration process. The expedition is planned to commence next year on the 35th anniversary of the original film.
Another method fans can donate is to commit to buy a Tatooine-themed wristwatch. The watches come in two designs, each with a sprinkle of sand from the location trapped inside. While the tickers haven't yet been made, should more than 244 people pledge to get one, manufacturing can go ahead. If this is successful, the group reckons it can make a further $22,760 (£13,800).
If you fancy helping out, or simply want to own a limited edition watch, then check out the Save the Lars Homestead page.
Alternatively, I'm starting a FaceCrack group now, gathering support to restore the iconic Hammersmith bench Eddie and Richie fight upon in the opening scene of 1990's cult TV comedy Bottom. Some things in life are too important. ®
Thanks to Chris Wedgwood for the tip.
Sponsored: Minds Mastering Machines - Call for papers now open