Dirt 3
Rally ho!
Beating the competition
AI powered opponents have a tendency to flip from the sublime to the ridiculous as they manœuvre and, more importantly, spin and crash around the various tracks. The lumbering spectre of the Terminator does hover over them though, as they look to knock the player's car off course whenever and wherever they're able. It's an issue often raised of GT5's AI too. On balance though, the feel of racing here is more authentic than that of Sony's racer.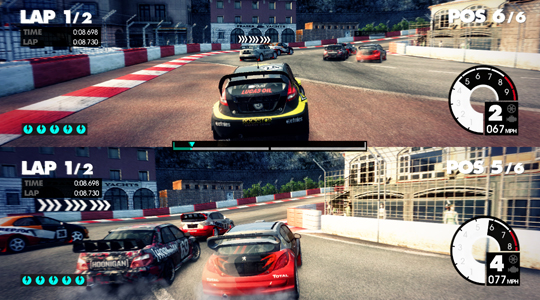 Split decision
Alas, the on-line component is, as yet, not available on PS3 for well-publicised reasons. In this case, the reason is that before playing on-line, you have to register the game through the PSN Store, which, at time of writing, remains inaccessible. Presuming lag doesn't rear its ugly head, the solo gameplay suggests multiplayer will be great, with Rallycross sure to lead the way in the popularity stakes, but capture the flag and other modes are also available. There's even the option to upload your best moments to YouTube for eternal bragging rights.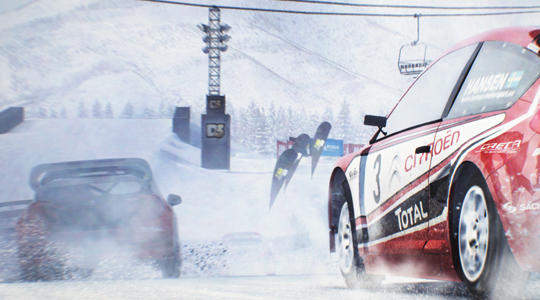 Leaving ski marks
Verdict
There isn't very much you'd say could be improved here, given the capabilities of the current generation of consoles on the market. OK, so the AI could be even more unpredictable, the Flashback system a little quicker to rewind and the cars even more tweakable for purists. However, with jaw-dropping visuals, exhilarating speed and handling as pulse-racingly exciting as you can get without climbing into a real rally car, Dirt 3 is a racer driving fans really can't afford to be without. ®
More Racing Games

Need for Speed:
Shift 2 Unleashed
Motorstorm:
Apocalypse
Nail'd
Gran
Turismo 5
Need for Speed:
Hot Pursuit
Sponsored: Minds Mastering Machines - Call for papers now open

Dirt 3
Muddied windshields, dented bodywork and ridiculous slides, it must be Dirt 3. Available on PS3 (tested) Xbox 360 and PC.