Rackspace cloud prepared for WAR, but Google AE chokes
Cloud providers leave Damon frowning over mirrors
Rackspace
Rackspace (UK) offers cloud services, servers and "files".
For this evaluation I am running a single "virtual" Linux server in their UK cloud, taking some strain off my existing main UK server/mirror.
Virtual server hosting is less funky than AWS, but very close to how I run my other machines, so should work with my system "as is" and present few surprises.
Rackspace provides a handy calculator which suggests that for a maybe 100GB-ish monthly outflow, and 512MB memory, I'll pay about GBP40/m in Rackspace fees. (12p/GB flow + 2p/h for a 512MB memory system.)
To replace my current main UK server at ~330GB/m traffic and 1GB+ memory would come to ~GBP70/m vs the ~GBP250/m that I currently pay for my colo, though it hosts some other services for me too and my bandwidth charges are effectively capped.
After my stand-off with Rackspace's sign-up and billing system, even after fixes by them I still couldn't get in without a warm body at the other end of the line.
However, Rackspace does seem to live up to their "fanatical" claim: other than the sign-up glitch, all humans that I have spoken to from tech support to PR flak have been helpful and polite and have often called me (ie, at the company's expense). The only difficulty I had setting up their virtual machine, other than choosing from a wide selection of Linux distros, was with the software firewall (iptables) that I hadn't realised Rackspace sets up by default. Again, tech support was quick and helpful and had me sorted on live chat in minutes. I'm still bowled over by their charm offensive as you can tell: fanboi, moi?
One attractive Rackspace console feature is the ability to easily resize my live mirror without disturbing its content. I started off with a larger configuration than strictly necessary for some elbow room, then downsized to halve recurring fees in 10 minutes once everything was running smoothly.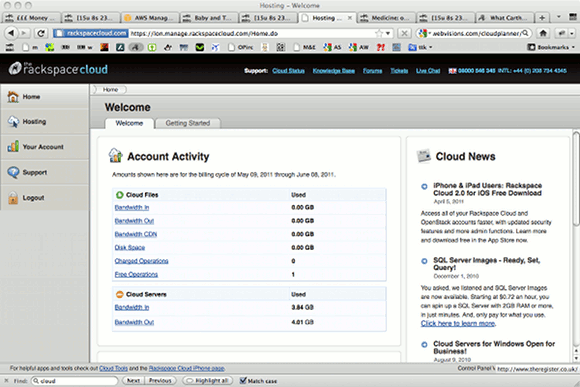 Rackspace's web console seems fairly sophisticated and robust, and on a par with AWS in many respects. One nice feature is the ability to run a terminal console up in my browser, though it was somewhat more clunky than a direct SSH session.
The Rackspace mirror sucked in the most traffic even in "stealth" mode – ~25GB/m – suggesting that maybe I need to boost capacity here at home in the UK.
Rackspace charges by the GB of data in and out without any budget cap, and limits outbound bandwidth depending on server memory size.
Amazon
I've spent several days tweaking and adjusting to fit the virtualised model where CPU and bandwidth are likely to be chargeable, as described before, and I think my code has benefited from the enforced spring-clean.
The simple browse/upload of new WAR versions and performance monitoring in the AWS console are great features, and the possibility that a single such upload might be able to deploy in several locations at once is also enticing.
A downside is that the "Elastic Beanstalk" service is US-only for now, and I'm well served there further down the east coast. My AWS-hosted mirror only pulls in about 12GB/m traffic, which suggests that there is little value in staying in EB until it is available outside the US.
And in spite of the time lavished on this outpost, I have had difficulty keeping my AWS instance stable. Every once in a while (down to every couple of days now) the AWS monitoring decides that my system is unresponsive and restarts it, clearing my local cache in passing. My code runs fine for months on end on all sorts of hardware, and monitors various parameters such as CPU and memory and bandwidth and time-to-service user requests in order to regulate itself. This seems not to be enough in AWS. For example, the CPU load obtained from the underlying OS is not virtualised to match any sharing of resources, so can be indicating ~10 per cent use when the AWS monitoring is claiming that I'm saturating the machine with 100 per cent utilisation. Very odd ...
If I progress this AWS installation I may have to put in some work to use their APIs to poll system state though that may also be chargeable service.
I have never received an alert email from AWS, even though I had signed up to do so when significant system events happen, but their ra-ra marketing SPAM keeps rolling in.
AWS has been helpful and polite and reasonably quick in responding to me via normal support channels and in forums, but the lack of a bill cap, the instability and the US-only Elastic Beanstalk service are all bad.
Sponsored: Minds Mastering Machines - Call for papers now open