Ten... DAB kitchen radios
For what we are about to receive...
Magicbox Touch Kitchen

Sticky hands make for sticky buttons that can eventually get too gunky to operate. It's an issue Magicbox tackles by introducing a DAB radio with touch sensitive controls. Marketed on-line as the Magicbox Touch Kitchen, you'd expect it to be more suited for kitchen use, though.
The 3W stereo speaker grille is a fabric covering, which means keeping things clean could rapidly become an issue. The glossy plastic finish is no stranger to fingerprints either and without those clunky size-C batteries inside, the body is way too lightweight. If this falls off your fridge, you can probably kiss goodbye to it.
There are 20 presets are spread over five panels, selected by finger taps and double-taps. It doesn't take much to work out, but it's far from convenient. The touch sensitivity can be rather unresponsive too, even without dough-covered hands.
Luckily, the Magicbox Touch is thrown a thin rope through its warm and strapping sound. Whack it up to max volume, though, and just like the Logik, the Touch gets a tad distorted. Superb bass helps the output sound reasonable, though, so a cranky dishwasher won't be too much of a distraction with this on full blast – as long as you find a decent signal, that is. Reception was quite a let down, struggling to pick up several stations other models had no issue with at all.
If you have a problem with real buttons, or can't stand dials, then this could be for you. It's comes at a fairly friendly price too.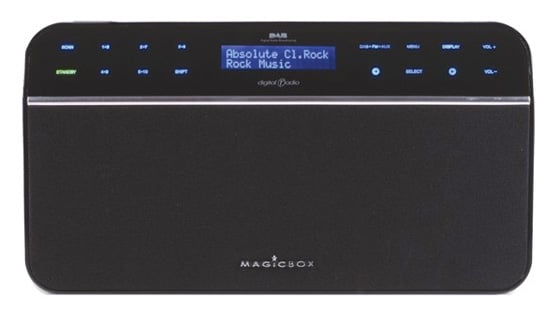 Reg Rating 65%
Price £50
Services DAB, FM
More info MagicBox
Nevada Sinfonie II

Communication specialist Nevada returns to its Sinfonie range here with a complete redesign. It's fugly compared to the previous model, but has a more portable feel and much-improved features.
While it's a compact size, the Sinfonie II is let down by a flimsy build and an awful glossy black finish. Therefore it's a breeze to clean, but even easier to get dirty. Does anyone actually like glossy plastic finishes on audio tech? What world am I living in?
Controls are simple enough, but lack practicality, especially with setting presets, which are limited to single-button and dial control. As with the Logik, it's an unnecessary fiddle and, for kitchen use especially, a range of dedicated buttons is always useful.
Sonically, I have mixed impressions. There is practically no distortion when turned right up, but the volume isn't as high as I'd like and the lower frequencies are lacking. The Sinfonie II may pump out enough through its mono speaker to overpower the spitting fat of bacon frying in the morning, but a loud washing machine will take centre stage.
The Nevada Sinfonie II claims to be ahead of the game. It can handle DAB+ and DMB-A, which is certainly a bonus, but the £60 price tag still seems pricey given its sonic performance.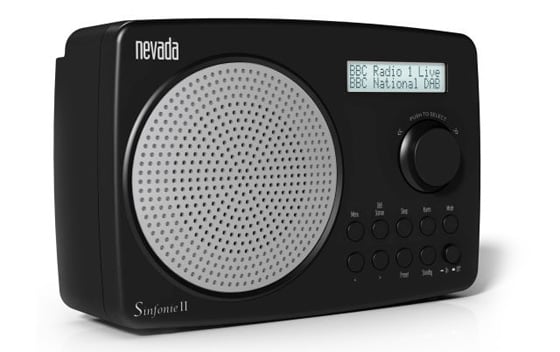 Reg Rating 65%
Price £60
Services DAB, DAB+, DMB-A, FM
More info Nevada Radio
Sponsored: Minds Mastering Machines - Call for papers now open