NASA 'deep space' ship: Humans beyond orbit by 2020?
Just maybe – if Elon Musk can do what he says
Nonetheless there is a possible man-rated, Deep Space Lite™ option coming on stream before 2020
So NASA are quite possibly out of luck with their SLS aspirations, particularly if President Obama gets re-elected in 2012. And no matter who builds the heavy lifter, it would on the face of it seem that the Orion/MPCV deep spaceship will sit about costing billions and not actually fly anywhere for quite a few years. Musk's existing Falcon 9 doesn't have the grunt to carry Orion/MPCV, no matter that it seems likely to get cleared for manned flights fairly soon.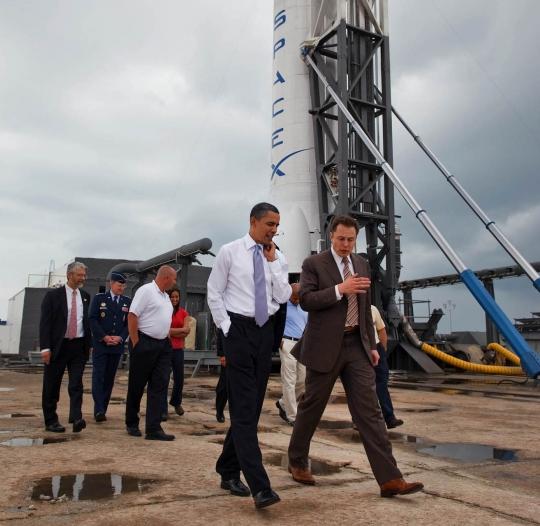 OK, Mr President, keep Orion if you have to. I'll get you something to launch it on
The sudden decision to rebrand the Orion as a deep space ship would seem to be nothing more than porkbarrel politics, then. Certainly, the President seemed to imply last year that it would be no deep-spacer but merely an ISS-lifeboat makework project. Why has he changed his mind? Is it merely because of that upcoming presidential election?
Obviously that must be a factor in Obama's thinking – and therefore presumably in Bolden's. But one does note that SpaceX has just unveiled a triple core, Merlin-1 based Falcon Heavy design intended to fly by 2014, supposedly man-rated and able to lift 50 tonnes to orbit. SpaceX is keen to use this to compete for business putting hefty US spy satellites into orbit.
However the Falcon Heavy would also be more than capable of carrying Orion/MPCV into space, with a fair bit of additional payload as well: perhaps enough to mount a small beyond-Earth mission right off. Certainly two Falcon Heavy launches, if the Heavy delivers to the planned spec, would be enough to put together a worthwhile little deep space mission in orbit. And if Musk's price quotes are for real, such a mission would potentially be cheap enough to happen really quite soon.
If Musk can get the Falcon Heavy flying on time and meanwhile show a safe and reliable flight record with its Merlin 1 engine and other common technology in the smaller Falcon 9, the case for manned Falcon Heavy missions late this decade would be looking strong. In the absence of a properly kitted out Orion/MPCV, however, there would be no candidate for a beyond-Earth-orbit ship ready to go*. The first missions would have to wait for the more likely 2020s timetable.
In this light, the decision to keep Orion and make it a deep-spacer might look reasonable to manned-space enthusiasts down the road, as well as deal-makers in Washington right now.
Obama could have largely achieved his political goals with a more basic, ISS-lifeboat-only Orion along the lines spoken of last year, after all. There's very little extra porkbarrel benefit in restoring the project's former status as a potential deep-space ship.
It seems likely that this week's announcement results at least partially from SpaceX's Falcon Heavy timeline revealed just last month. It seems at least possible now that if Elon Musk can do what he promises, space watchers may not have to wait yet another weary decade and more for the first manned flight beyond Earth orbit since 1972.
One has to note, though, that a good deal of insitutional inertia would need to be overcome at NASA for such plans to eventuate. As this is published, the agency has just announced a 2016 launch date for a robotic near-earth-asteroid sample return mission, OSIRIS-REx, spoken of as a necessary precursor to any manned asteroid mission. OSIRIS-REx would not return its sample to Earth until 2023. ®
Bootnote
*Musk has suggested that his company's Dragon capsule, once equipped for manned flight, would be capable of landing on Mars as well as Earth. However there's no suggestion that the SpaceX will be able any time soon to fit it with a service module and propulsion system suitable for long-endurance, long-range manned missions beyond Earth orbit.
Sponsored: Minds Mastering Machines - Call for papers now open