NASA 'deep space' ship: Humans beyond orbit by 2020?
Just maybe – if Elon Musk can do what he says
No matter who builds the heavy lifter, it won't be ready until the 2020s. Why does NASA want a deep-spacer now?
NASA's planned Space Launch System heavy lifter is a sort of Shuttle without the orbiter, which would look a bit like a Shuttle fuel tank and strap-on boosters with some Shuttle main engines attached at the bottom, plus payload, upper stage etc mounted on top. In time, parts of this might be replaced by former Ares/Constellation pieces developed before the axe fell.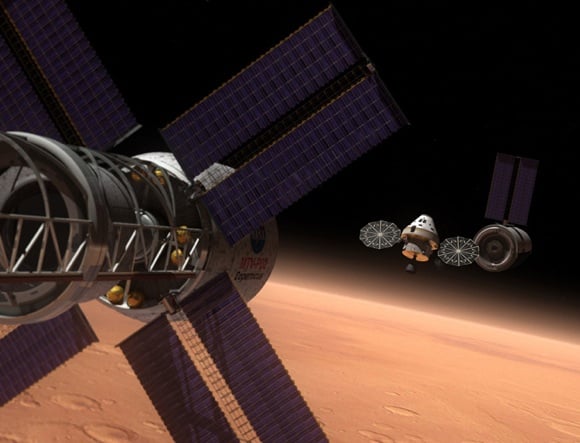 This is certainly a long way off.
Exactly when the SLS could be ready is uncertain: a detailed report is expected this summer, but delivery seems likely to be at some point well after the original goal of 2016. Unsurprisingly NASA analysis suggests that SLS would be expensive to use, as it would run on cryogenic liquid-hydrogen fuel and would mean making and throwing away sophisticated Shuttle main engines every time rather than re-using them as has been the practice until now. Developed versions of the SLS might lift as much as 130 tonnes to orbit, and it would of course be man-rated.
In this vision of the future, NASA and its established Shuttle and Orion partners would build and run the entire US manned space programme apart from the ISS supply and ferry missions, which will of course disappear in the nearish future. This would avoid any uncomfortable need for job losses among the multitudes of NASA and aerospace-industry employees who have made the US manned space programme what it is today.
The problem here is cost: politically realistic levels of US funding probably can't mount much of a deep-space push – almost certainly not one as far as Mars – on this model of large traditional organisations using expensive traditional technology.
There is an alternative, though. Famous geekbiz-kingpin Elon Musk and his upstart rocket company SpaceX have come from nowhere in just eight years to successfully test-fly their brand new and very cheap Falcon 9 rocket and Dragon capsule, already apparently quite capable of performing the ISS supply mission. Only a few years ago, many in NASA and the established industry were arguing that this would never happen.
It's also no secret that Musk and SpaceX are working on a new Merlin 2 rocket engine, much bigger than the current Merlin 1 which propels the Falcon 9. A multicore heavy lifter based on Merlin 2 would be in the 100-tonne-plus realm required to mount a Mars mission, and will surely be the cheapest offering competing at the 2015 heavy lift Mars-rocket decision.
A further hint that SLS may be doomed is offered by the fact that Obama specified that one of the R&D efforts he expects to lead to less-costly space access would be "a US first-stage hydrocarbon engine for potential use in future heavy lift": in other words something a lot like the hydrocarbon-burning Merlin 2, and not much like the hydrogen-burning Shuttle main engine or derivatives of it.
Sponsored: Minds Mastering Machines - Call for papers now open