NASA 'deep space' ship: Humans beyond orbit by 2020?
Just maybe – if Elon Musk can do what he says
It's going to be a 'deep space' manned ship ... where's the man-rated rocket?
The president had reportedly planned to axe Orion along with all the rest of Constellation, but at the last minute – possibly as a sop to the large space-industry and NASA workforces facing the sack in the wake of the Shuttle programme and the axing of Constellation – Orion was reprieved. It lacked any obvious task in the near future, and with the demise of Ares I there was no prospect of any man-rated rocket able to carry it being ready at the point when Orion would be completed. It was stated at the time that the orphan ship might be launched unmanned to dock with the ISS and serve as a crew lifeboat, though Russian Soyuz craft were already performing this role without difficulty and one would never keep on building Orion just for this.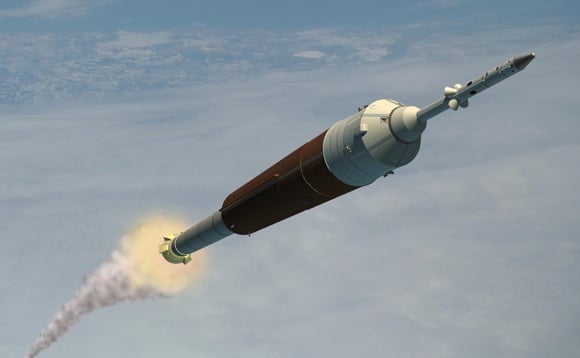 Nor is this
You might alternatively keep Orion going for use in the projected deep-space missions of the future, but on stated plans the lifting rockets and the funding for these will not be ready until well into the 2020s: even the heavy-lift rocket decision is not until 2015, a year after Orion/MPCV is supposed to be ready. The ISS has now had its life extended, too, which will eat up US manned-space funds. A development timeline of 20 years and more from its 2004 kickoff to first flight would make Orion very expensive indeed: financially it would probably make more sense to mothball it or scrap it and start over again once the deep-space plans firmed up. Probably cancellation followed by a new ship would work out cheapest, as Orion is an old school, cost-plus, joint effort between NASA and established contractors led by Lockheed. Almost any kind of new and more appropriately-timed effort would be likely to cost less.
None of this background has changed: this week's announcement by NASA doesn't at first sight mean that anything new has really happened other than some contract shuffling. What it really says is that the agency and its Obama-appointed director Charles Bolden are formally committed to resisting cancellation and keeping Orion, sorry, MPCV alive until the deep-space era eventually begins. That will be politically beneficial, as NASA's pork map shows.
It also seems that Bolden and NASA intend that the 2015 heavy-lift rocket decision should be made in favour of the contender being designed by NASA's in-house team for build along traditional agency-plus-industry lines.
"The NASA Authorization Act lays out a clear path forward for us by handing off transportation to the International Space Station to our private sector partners, so we can focus on deep space exploration," says Bolden in a tinned quote. "As we aggressively continue our work on a heavy lift launch vehicle, we are moving forward with an existing contract to keep development of our new crew vehicle on track."
Sponsored: Minds Mastering Machines - Call for papers now open