NetApp gloats over storming fourth quarter
Wall Streeters relish a pleasurable beating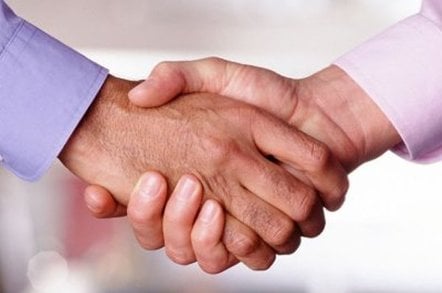 With a storming fourth quarter and year NetApp's 2011 fiscal year revenues grew 30 per cent as the company revelled in its server virtualisation storage business.
It recorded fourth quarter revenues of $1.43bn, up from $1.27bn a year ago and 11 per cent sequentially. Net income was $160.6m, up from $145.1m a year ago. The full year numbers were equally impressive, with revenue amounting to $5.123bn ($3.931bn in fy 2010) and net income of $673.1m, up $272.7m from 2010's $400.4m. This company is churning out profits like a dairy churns out cream.
Was Wall St, the street that likes to be beat, pleased? Do bears make brown deposits in the woods? The shares rose slightly to $53.6, a gain of 3.61 per cent, in after hours trading. Financial analysts raised their expectations of NetApp's future earnings.
Tom Georgens, NetApp's CEO, was on a roll, saying: "NetApp delivered 30 per cent revenue growth, 38 per cent growth in cash from operations and over $1B in non-GAAP operating profit during fiscal 2011. We achieved the largest market share gains in our history and closed a record number of million dollar deals, demonstrating our momentum in the market as enterprise customers increasingly choose NetApp as their vendor of choice for storage virtualisation and cloud deployments."
Eat your VNX heart out, EMC. CFO Steve Gomo hinted that the results could have been even better, saying in the earnings call transcript: "Despite being hampered by supply constraints through the first half of the quarter, NetApp finished Q4 with solid revenue growth, record earnings per share and new record free cash flow generation."
Georgens said there were "a record number of deals over $1m and a record number of deals over $5m," and talked of making "the largest market share gains in our history." He virtually gloated over product shipment growth, saying: "The 6000 family saw units increase 86 per cent sequentially and 64 per centyear-over-year. The 3000 family grew 39 per cent sequentially and 51 per cent year-over-year. The 2000 family was up 11 per cent year-over-year and down 4 per cent sequentially, as some demand moved up to the newer 3200 platforms. The V-Series, which continues to be a compelling vehicle for enabling the introduction of Data ONTAP into new accounts, grew 37 per cent sequentially and 35 per cent year-over-year."
Discussing demand drivers, he offered this: "The major driver of this demand was the customer preference for additional Flash Cache modules which increased about 200 per cent from Q4 of last year and are now attached to two-thirds of the [FAS] 6200s and one-third of the 3200s." Alluding to EMC, he said: "Recent competitor announcements notwithstanding, we remain confident in our competitive position."
The competition falters
Stifel Nicolaus analyst Aaron Rakers wrote: "EMC reported total Information Storage revenue of $3.430bn for its C1Q11, up 17.5 per cent yr/yr but down 5.8 per cent sequentially. EMC reported high-end Symmetrix growth at 25 per cent yr/yr (we estimate +12 per cent seq.) and midrange growth of 20 per cent yr/yr (down 15 per cent seq.), which was below the growth rates reported by NetApp for its comparable systems. HDS reported 9 per cent yr/yr total storage revenue growth with revenue roughly flat on a sequential basis". (After converting to US dollars, revenue was up 19 per cent yr/yr and down 1 per cent sequentially).
He added that HP had around 3 per cent disk storage growth and Dell 11 per cent. HDS reported 19 per cent total storage revenue growth, and the overall disk storage market grew 13 to 14 per cent in the first quarter of fy 2011 on a year-on-year basis. These competitors all look to be pale shadows of NetApp.
We should bear in mind, though, that EMC's VNX range is still quite recent and it could do very well. EMC has announced it is putting flash caches into servers with ProjectLightning, and Georgens talked about this:
I expect that there will be flash in large quantities deployed in the servers. And I think there'll be various ways of utilising it, some simply as a cache, some as effectively permanent storage or effectively like disk drives. So I think as time goes on, I think you'll see or continue to see innovation. You'll continue to see participation from NetApp in various different dimensions putting cache into these environments... I'm sorry, flash into these environments. I expect flash to be a big deal, and I think the Flash Cache has been very, very effective for us. And I think we've got aspirations to do more with it as time goes on and you'll see that come up from NetApp over the next couple of years.
Sponsored: Minds Mastering Machines - Call for papers now open