Customisable WishLists are also worth setting up because TiVo can constantly scour listings for shows that match chosen keywords, genres, cast, directors or combinations of the above.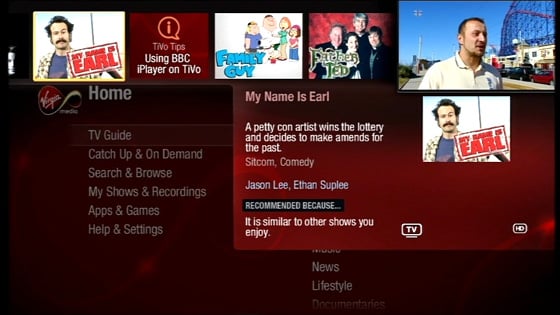 The Home screen's Discovery Bar is one of the places where TiVo suggests other shows
It has three active tuners, so it can record up to three overlapping programmes, or two if you're watching live TV as well. It buffers live TV on all available tuners, enabling you to pause or rewind up to three current channels and hop to and fro between them, which is pretty mind boggling at first.
The sleek, tapered box has no front panel display, just basic controls and status LEDs. Each tuner has an indicator that lights when one, two or three programmes are recording. There's even a fourth tuner LED here – could there be hidden hardware waiting to be enabled?
The Home page has a rather intrusive 'Discovery Bar' which Virgin uses to flag up shows, seasons or other content. You have some control over what's shown here and it alters as you make more recordings or rate programmes, but you can't remove it from this menu.
Series Links will also find upcoming alternative showings in case of overlaps or clashes. It remembers links when series are off-air to catch them on their return. However, if you want to track things that may move channel or haven't appeared yet, use WishLists. If a series you like changes channel, TiVo should also find it with its suggestions if it's doing its job.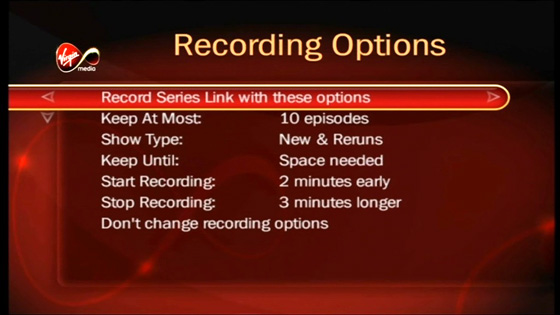 Fine control over how each series is recorded
Series Links and WishLists can be prioritised, so you can favour more essential broadcasts, especially if they have fewer (if any) repeat showings. TiVo can catch repeats later but you should check its planned recordings and fix any obvious oversights.
COMMENTS
When will these companies realise that they are now just another utility?
About the same time you realise that someone who thinks "I'd go get a small-ish, quite PC (something like a Fit-PC2, but maybe with more oomph) drop XBMC/Myth on it and stream from a common source " isn't the target demographic for this device?
This is for ordinary people, they don't want to do what you describe, they want someone to come round, install the magic box for them, then leave so they can watch tv...
Not bad...
... but not a patch on a custom MythTV build.
A custom build will definitely cost more - at least £300 for a reasonable rig.
It'll also more than likely take you an entire weekend to get up and running, assuming you've got the chops.
Built myself a MythTV box 18 months ago and it's still going strong - hooked up to Telly via HDMI.
I'm running Boxee and XBMC on it too, so it covers all the bases.
Copy stuff across the network, schedule TV recordings (remotely too), watch from any computer in the house (with mythtv frontend), or share folders via Samba and watch recordings on any device (android mobile for instance) - plus it's yours to hack away on and install whatever else your heart desires. I use mine as an SVN repository and home Apache dev server too.
Highly recommend this route if your geeky enough to be able to do so - and this being The Register, I'm sure most of the readers here are.
The fact that your not in any way locked down by the hardware or vendor, that you can add more storage space, more ram, run anything you want on the box - is awesome.
Never looked back.
Nothin' o
"Fifty-seven channels and nothin' on". Sums up their offer
cost?
More than happy with v+ but would like more disk space with more and more HD channels coming on line. Don't see any particular advantage in the TiVo other than disk space and I don't want to increase the monthly payment again (already xl with 2nd box)
Any chance of an unbundled version?
I'm a big fan of TiVo and loved my UK series 1 before it shuffled off this mortal coil. Sadly I don't live anywhere near a Virgin cable network so this won't work for me.
Does anyone know if Virgin have an exclusive deal with TiVo or is there any chance that other companies will be bringing out TiVo Freeview/sat boxes?