Server sales grow thanks to big boy boxes
Mainframes and Unix machines catch the upgrade wave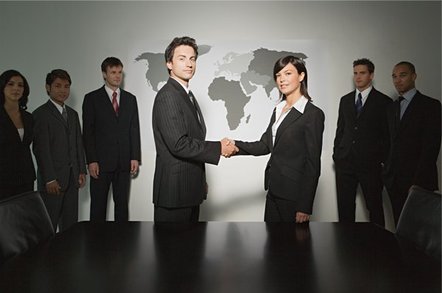 Server peddlers and their reseller partners the world over are breathing sighs of relief as their first-quarter bonus checks now seem safe and sound, according to a report by the box counters at IDC.
In the first quarter, worldwide server revenues rose by 12.1 per cent to $11.9bn, the fifth consecutive quarter of revenue growth after the bottom fell out of the systems racket in late 2008 and early 2009.
Server unit shipments also continued to rise, hitting 1.9 million machines – although with growth of only 2.5 per cent, virtualization across all server types is having a downward impact on server shipments. That same virtualization trend is also driving up average selling prices, which is fine by those who sell boxes as long as component prices don't get too crazy.
Sales of x64-based servers were hit first when the Great Recession hit. Now, after well over one million servers were not upgraded as the economy wound down, it's long past time to upgrade them and get more reliable, more powerful, and more energy-efficient boxes into the field.
Unix and mainframe servers were not initially hit as hard by the recession – it's difficult to stop the momentum of such large projects – but eventually they were hit much harder. It has taken significantly longer for these products to get budgetary approval and rebuild momentum, but product transitions in 2010 and an improving economy helped vendors enter 2011 with a decent pipeline.
As IDC had been projecting, servers using RISC, Itanium, and mainframe processors – not x64 chips – turned in their second decent quarter in a row with revenues of $4bn, up 12.3 per cent compared to the year-ago quarter. But x64-based machines rule the market, representing almost all of the 1.9 million machines, growing at 2.6 per cent and generating $7.9bn in revenues, up 12 per cent.
Blade servers accounted for about a fifth of all x64-based server revenues, and across all processor architectures (there are RISC and Itanium blades, but not mainframe blades), those blade servers brought their makers $1.8bn in sales.
Blade-server revenues grew twice as fast as the market at large, up 23.8 per cent, and shipments rose 5.4 per cent in Q1 2011. HP got half that blade money, IBM a fifth, and Cisco Systems and Dell pulled in 9.4 per cent and 8.4 per cent of blade sales in Q1, respectively. Cisco may have a long way to go before it catches up with Fujitsu in the overall market, but it has made much progress in the last two years and is now the number three player in blade servers.
In the fourth quarter of 2010, IBM's mainframes were the big growth driver, but this time around Unix systems kicked in a bit, as well. IDC reckons that Unix-based systems accounted for $2.6bn in sales in the first quarter of 2011, up 12.5 per cent.
Perhaps more significantly, the big three Unix server makers – IBM, HP, and Oracle – all had growth in the Unix space. IBM's System z mainframe sales rose by 41.1 per cent and brought Big Blue more than $1bn in the quarter. That's the third quarter in a row in which their mainframe sales were above $1bn, thanks in large part to the System zEnterprise 196 server announced last summer.
Sales of machines running Windows, which are now almost exclusively based on Xeon chips from Intel or Opteron chips from AMD (although there is a smattering of Itanium boxes sold to run Windows), had $5.8bn in aggregate revenues across all server makers. Windows-based machines made up 48.5 per cent of worldwide server revenues in the quarter, moving over 1.4 million units, more than three-quarters of all servers shipped. However, Windows server revenues only grew at 10.1 per cent, which was slightly slower than the market at large.
Mainframes and Unix boxes raised the class average this time around.
Whatever Windows didn't eat in terms of shipments, Linux did. IDC didn't give out Linux-based server shipments, but there are relatively few Unix and mainframe systems shipped for all the money they rake it. Linux machines accounted for $2bn in revenues in the quarter, up 16.6 per cent compared to the first quarter of 2010.
By vendor, HP was the top server seller in Q1, with $3.75bn in sales, up 10.8 per cent, followed by IBM at $3.49bn, up 22.1 per cent. Dell kept its traditional number-three spot, with $1.86bn, up 9.7 per cent, and Oracle held onto Sun Microsystems' number-four spot and actually managed to eke out some growth with sales of $773m, up 13.6 per cent. Fujitsu's server sales fell 15.6 per cent in the quarter to $578m. Other vendors in the market accounted for $1.47bn, up 10.6 per cent. ®
Sponsored: Minds Mastering Machines - Call for papers now open