Outland
Dark matters
Graphical kaleidoscope
That's a motif continued here, and indeed, as in the opening scenario I described, switching polarities is key to your progression – get it wrong and not only will you lose a heart, Outland's health bar, but often get knocked off whatever ladder or platform you were on. After an initial couple of hours, quickly switching becomes second nature. However, when faced with one of the game's multifaceted traps, getting repeatedly knocked back can prove frustrating – an issue not helped by the wide spacing of checkpoints.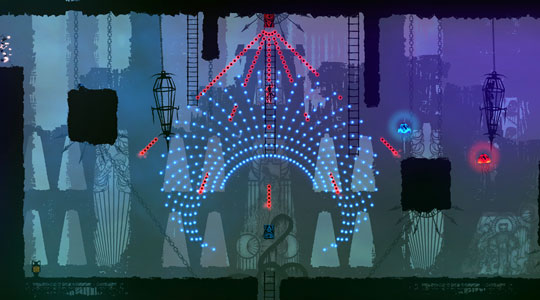 Raving it up
Still, the hero does possess other powers to ease progress – he'll learn to slide, transport, ground stomp and more, thus granting you further skills to assist exploration of the game's huge areas: jungles, cities and even the underworld (all sketched out –including objectives – on a handy quick-glance map). It's the cumulative heightening of powers – as has been done in Metroid, Shadow Complex, et al – but still a system which ensures that the game doesn't give up all its surprises at once.
Graphically Outland is a treat; a real testament to developer Housemarque's expertise when assembling download-only titles – this being the developer who brought us the excellent Super Stardust HD, after all. Every model, be that man or beast, is gracefully animated, while mesmeric backdrops generate plenty of ambience. Even your very path is marked out by a kaleidoscope of shimmering butterflies.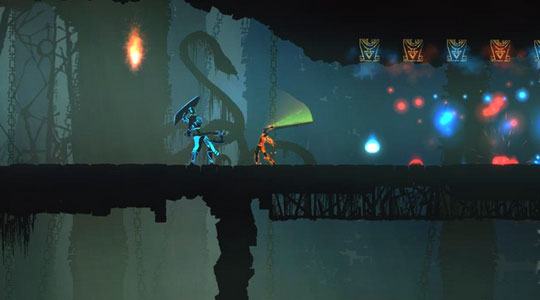 The green swing
The overall feel is one of minimalist elegance with dark and shadow used abundantly, complemented rather beautifully by yellow, green, blue and red hues which dominate the colour scheme. The whole effect evoking lost civilisations, the Mayans or even Persians say, and even the music plays its part, heightening the feeling of intrigue and mysticism.
Sponsored: Minds Mastering Machines - Call for papers now open