Endeavour spacewalkers come face-to-face with VADER
US Air Force claims improbable backronym crown
Endeavour mission specialists Drew Feustel and Mike Fincke today completed the third STS-134 mission spacewalk at the International Space Station.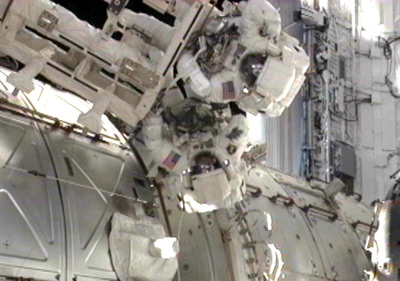 "It's great to be back outside. It's the most beautiful planet in the universe," said Fincke as he gazed down on Earth. "Nice view, isn't it?" chipped in Feustel.
Having admired the scenery, the pair successfully completed a range of tasks during the six-hour, 54-minute EVA, including hooking up cables to provide increased power redundancy to the orbiting outpost's Russian segment.
The two also installed a power and data grapple fixture to the Zarya module, which will "allow the station's robotic arm to 'walk' to the Russian segment, extending its reach by using that grapple fixture as a base".
The mission specialists additionally wrapped the work on the external wireless antenna system which the Feustel and Greg Chamitoff began on the first spacewalk last Friday.
To complete their roster of tasks, Feustel and Fincke grabbed infrared imagery of four experiments on the Space Test Program-Houston 3 payload, installed on the Express Logistics Carrier 3.
Among these is the Air Force Research Lab's VADER, aka the "Variable emissivity device Aerogel insulation blanket Dual zone thermal control Experiment suite for Responsive space". We find it unlikely that anyone will ever challenge this for the improbable space backronym crown.
VADER is, in case you're wondering, testing "a robust, reconfigurable thermal control system that is focused primarily at small, responsive space missions but is applicable to a wide range of missions and satellite classes", as well as "a new form of multi-layer insulation protection using Aerogel material".
Another experiment sharing space with VADER is the US Air Force Academy's "Canary" ("not an acronym", NASA mercifully notes), which is probing "the interaction of approaching spacecraft and the background plasma environment around the station".
NASA has the latest from Endeavour here, including the obligatory spacewalk stats:
This was the third of the four STS-134 spacewalks, for a mission total of 21 hours, 20 minutes. It was the 247th spacewalk conducted by US astronauts, the 117th from space station airlocks, and the 158th in support of space station assembly and maintenance, totaling 995 hours, 13 min. If all goes as planned, the 1,000th hour of space station assembly and maintenance will be logged Friday.
Chamitoff and Fincke are the pair due to exit the ISS on Friday and break the 1,000-hour barrier. There are more details in the mission summary (2-page PDF/356KB). ®
Sponsored: Minds Mastering Machines - Call for papers now open