ISS 'nauts touch down in Kazakhstan
Cady Coleman's hair back under full gravitational control
The International Space Station's Expedition 27 came to an end yesterday as Dmitry Kondratyev, Cady Coleman and Paolo Nespoli (pictured left to right, below) departed the orbiting outpost after 157 days in space.
The trio's Russian Soyuz TMA-20 undocked at 21:35 GMT. Commander Kondratyev backed the spacecraft to 600 feet from the ISS to allow Nespoli to grab video and stills of the complex with space shuttle Endeavour docked for the last time.
Following a separation burn at 22:15 GMT, and a deorbit burn at 01:36 GMT, the Soyuz returned gently to Earth at 02:27 GMT, landing southeast of the town of Dzhezkazgan in Kazakhstan.

Hairdressers worldwide will doubtless be relieved to see Coleman's hair back under full gravitational control. Her substantial locks raised a few eyebrows during her stay in space, as this recent snap with Endeavour commander Mark Kelly demonstrates: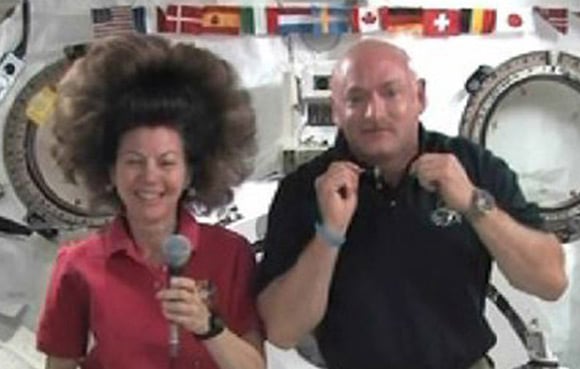 Back on the ISS, commander Andrey Borisenko, NASA flight engineer Ron Garan and cosmonaut Alexander Samokutyaev now make up Expedition 28. They'll be brought up to full strength on 9 June, when Soyuz commander Sergei Volkov, NASA flight engineer Mike Fossum and Japan Aerospace Exploration Agency flight engineer Satoshi Furukawa dock a couple of days after blasting off from Baikonur Cosmodrome. ®
Sponsored: Application managers: What's keeping you up at night?