Digital Stream DPS-1000 BBC iPlayer set-top box
IPTV and DLNA for sub-par tellies
Disconnected UI
The other sections - WebTV for YouTube, Flickr and so forth, and Home Media for USB and DLNA file access - present a UI that's unpolished and disjointed. The DSP-100 lets you set up user accounts, but these only hold YouTube and Flickr login details - the Twitter and Facebook "widgets" are handled separately.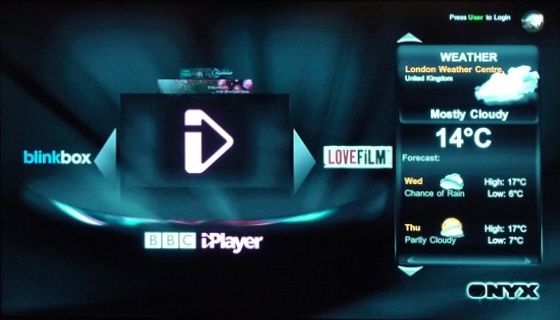 BBC iPlayer is the first thing on the menu
Worse, they require you to have your computer running so you can enter a code into the OMB website, then go to Twitter to grant the widget API access before you can log in. What a palaver.
The selection of Widgets - own-window applets presented on the Home screen and, if you wish, during content playback - is pre-set and seemingly unchangeable. So is the hotch-potch collection of video feeds - plus a Games channel with three, play-them-once casual games - in the Web TV section.
Browsing any of these is straightforward, but searching is separate - there's a key on the not at all bad remote control for that - and limited to YouTube and Home Media only.
There's a separate Setup section - again, only accessible from a button on the remote - which can only be quit by navigating down to the Cancel or Apply on-screen buttons. The remote's Back button, which works as expected everywhere else, triggers nothing here.