Fedora 15: More than just a pretty interface
GNOME emerges from last century
Snappier – if your rig can handle it
GNOME 3 isn't just about revamping the interface, it's also about shedding the vestiges of the past. Part of that shedding is good news: GNOME 3 is, provided you have the hardware, much snappier than GNOME 2.x. The speed boost comes from behind-the-scenes changes that take advantage of today's graphics cards rather than the circa-1996 cards for which GNOME 2.x was written.
However, a rewrite that leverages modern hardware is always a double-edged sword. Owners of older or unsupported hardware won't be happy, but at the same time a developer can only support the old at the expense of the new for so long. The GNOME team has decided that now is the time to make the leap forward.
If you don't like GNOME 3, that's one thing – but it's hard to fault Fedora's integration of it. However, there are a few small items that make Fedora 15 feel like more a GNOME 3 showcase than a Fedora update. At the request of the GNOME developers Fedora has stuck very close to the upstream GNOME 3 design. Even the default desktop wallpaper is a hybrid between GNOME's striped look and Fedora's bird theme.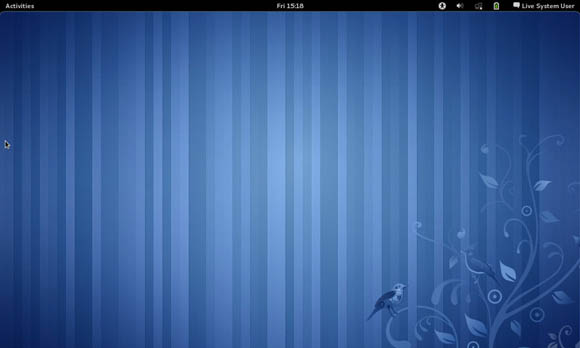 Fedora 15's default desktop: stripy like GNOME 3, ornithological like Fedora (click to enlarge)
There are also a few minor problems with themes in GNOME 3. While most of the stock GNOME apps have been ported to the new GTK+ 3 default theme, apps that still rely on a GTK+ 2 theme (such as Firefox) have different scrollbars. Combine that with the GNOME-oriented theme, and Fedora 15 will likely feel just a bit off to long-time fans.
While GNOME 3 is definitely the main story in Fedora 15, there are other big changes under the hood. For example, Fedora 15 now uses systemd as the default system and session manager – which was in Fedora 14, but not enabled by default. Systemd's main advantage is faster boot and shutdown times, especially on solid-state drives.
Another major change is the option to use the Btrfs file system. Btrfs, which is being developed by Red Hat, Oracle, and others, is on track to be the default file system in Fedora 16, but it's available for testing in this release.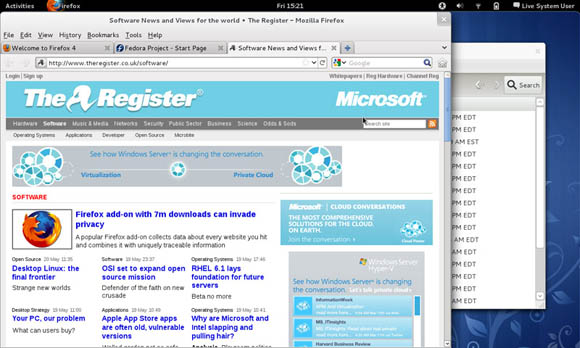 Firefox still hangs onto some GTK+ 2 baggage (click to enlarge)
That said, I don't recommend Btrfs. If you do want to test it, Fedora's release notes go out of the way to suggest maintaining good backups – in other words, Btrfs is getting there, but probably not a good idea for mission-critical work.
Other new features in Fedora 15 include a new dynamic firewall background service called firewalld that watches for configuration changes and automatically applies them without the need to restart your firewall.
Fedora 15 also offers new and improved power-monitoring tools to squeeze a bit more out of your laptop battery, and as always there's the usual slew of the programming-language updates that Fedora is known for.
Should you upgrade? Well, that depends.
If you hate GNOME 3 with the sort of passion most people reserve for politics and religion, well, your best bet is to stick with Fedora 14. Forever.
If you've tested GNOME 3 and can't wait to use it on a daily basis, then Fedora 15 makes a great choice.
If, like most people, you're still on the fence about GNOME 3, you might want to wait. As with KDE's move from 3.x to 4.x, GNOME is going through a major transition at the moment. While GNOME 3.0 is in much better shape than KDE 4.0 when it launched, there are still some features missing and some rough edges to be smoothed out.
It almost never hurts to wait for the x.1 release to come around before you make the leap to something as new as GNOME 3. ®
Sponsored: Minds Mastering Machines - Call for papers now open