€1bn handout from the EU targets ambient nagware and robot pets
'Hello. I am your cyborg buddy. You look fat'
New paradigms... really?
Not all applications (must-read PDF – 128 pages/859KB) made it through to the final shortlist of six.
Atta Badii, at Reading University, proposed an even more ambitious SIM-style game, called the World Society Modeller, or S-GAIA. This would "deliver a new kind of toolset to support the complex adaptive system called Society within the imperative of a sustainable world ecology." Badii is vague about what research problems the project may tackle, but confident that whatever the outcome, it would be revolutionary:
"R&D will spread not just across the fundamental sciences nor even the establishment of early prototypes and fast followers of the paradigm: it will be a Khunian effort and outcome," he predicts.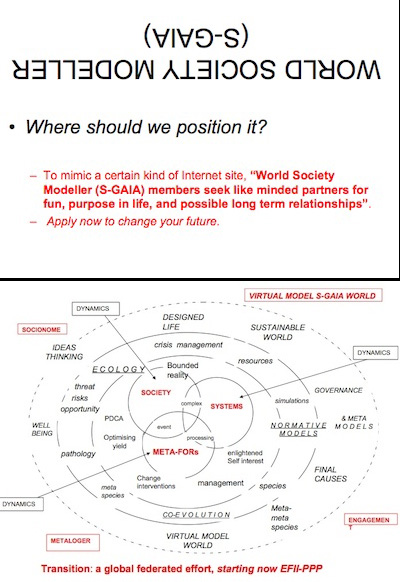 It's hard to see what "market failure" justifies this intervention of public funds. As we know, private capital is perfectly capable of funding no-hope startups all by itself, and in Shoreditch, does so every day.
Well, FET argues that this kind of research "seeds innovation and is essential for the sustainability of Europe's ICT industry by addressing roadblocks at the frontier of current technologies".
They continue: "New paradigms must be explored and radical alternatives assessed to prepare the next generation of ICT technologies and to remove these roadblocks..."
"More than ever in a difficult economic context, European industries' in-house investment is tending to focus on short-term market-driven research priorities rather than high-risk ICT research. This trend must be reversed by higher public and private investment in high-risk research."
High-Risk? You read that correctly.
It is hard to imagine any of this work – so lacking in scientific rigour, intellectual coherence, or even basic engineering principles – finding funds through normal academic channels. But as the poet Pushkin once wrote: "Where there's a trough, there are pigs." ®
Sponsored: Minds Mastering Machines - Call for papers now open