SendSpace
Fling files from your phone
Android App of the Week Shunting large volumes of data from my phone isn't something I usually need to do, but when the need arises SendSpace is an effective way of uploading large files for others to download.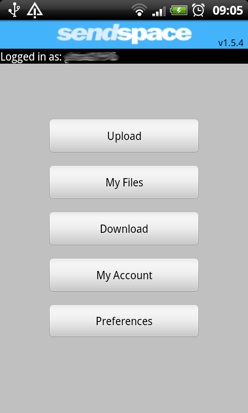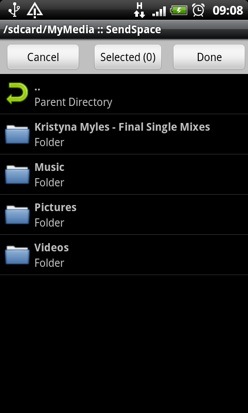 Dashboard is simple and functional (left), the file browser is a nice bit of design (right)
SendSpace is rather more than a file transfer site because you can leave stuff on its servers permanently and share access, making it sort of a cross between YouSendIt and Dropbox.
You don't need to register to use the app for a simple upload à la YouSendIt, but if you do sign up for a free account you can manage uploaded files and see how many times they have been downloaded.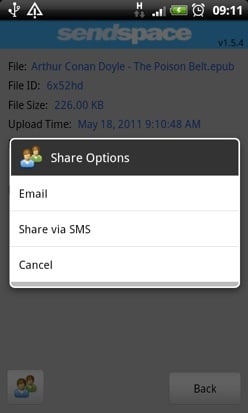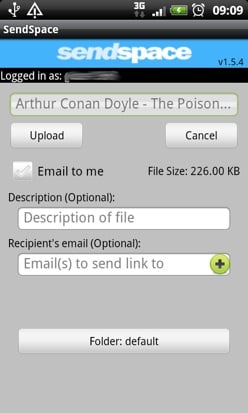 Send hyperlinks using e-mail or SMS (left), after filling in extra info (right)
If you don't fancy parting with any cash then, like me, you will be using the SendSpace Lite service, which limits you to uploads of less than 300MB in size and deletes your files after a month if nobody has downloaded them within that time period.
COMMENTS
After reading the title,
I was hoping this app would be something like a reverse version of Awesome Drop. Something where I can quickly set up a one time connection to whatever PC I'm using at the time and dump files straight across to it from my phone. Been looking for something like that for a long time.
Re: QR Code wrong
Wes, we admit it, it was the wrong QR. The reviewer has been taken out and shot, and a new QR image put in place.
Normal services has been, etc, etc.
Dropbox lets you share files too
If you put files in your Public folder you can:
a) Share individual files with anyone (basically file permissions are read-only, but directory listing is not allowed)
b) Share an entire folder with another Dropbox user
And it has 2GB available with its free account.
Android app screens: http://blog.dropbox.com/?p=439
SugarSync?
isn't that more of sync application like Dropbox rather than a file-sender like SendSpace?
I bet they thought no-one ever actually used those things
I mean, as one of my colleagues once put it, all bar-codes look the same!