Out of this World science fiction exhibition
Sci-Fi at the Brit Li
Lit Crit vs lightsabres
And this is why the British Library's Out of this World exhibition was so immediately familiar to me: that's how it's arranged too. The exhibits could all be pictures from the Encyclopedia. And both book and exhibition are equally at pains to stress the serious, speculative side of SF.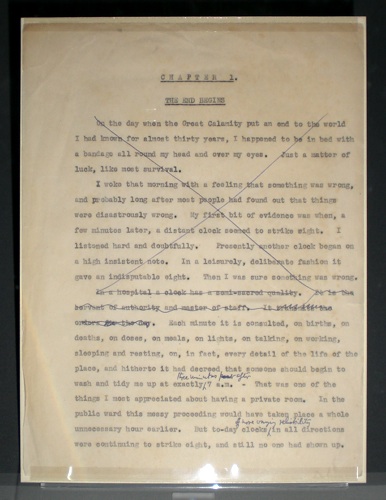 John Wyndham didn't get Day of the Triffids' opening right at first
With sections entitled Alien Worlds, Future Worlds, Parallel Worlds, Virtual Worlds and The End of the World, and the tagline, 'Science Fiction but not as you know it', the exhibition is an attempt to show that sci-fi isn't all lightsabres and warp drives.
It's a more literary world on display here - natural, perhaps, given it's presented by a library - and one more interested in SF's speculative qualities than its escapist pleasures. It can't ignore 20th Century Science Fiction's pulp roots - they reach too deeply - but it clearly wants visitors to come away with the understanding that this isn't a genre bounded by Hollywood.
The Library has had to acknowledge the popular conception of SF, of course, but it has gone for gentler, more thoughtful popular fantasy: there's the inevitable Police Box, an unnecessary steampunk incarnation of K9, a model of Marty McFly's time-hopping DeLorean, and even a display quote from Groundhog Day.
But the moving image itself is represented, on a handful of video terminals, by monochrome movie clips: the BBC's 1984 and Fritz Lang's Metropolis, for example - respectively, SF as literature, as art. Authorial and scientific talking heads toss their orbs too.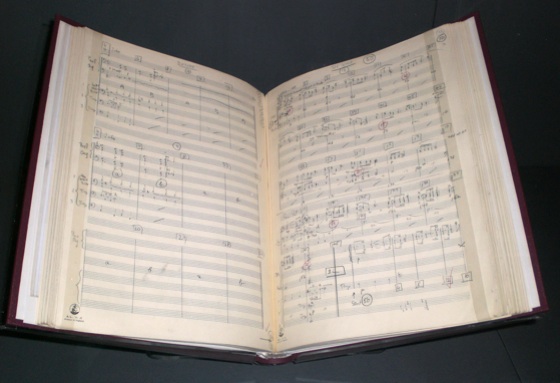 Ooo-weee-ooooooo: Ron Grainer's Doctor Who theme score
SF may be a forward-looking genre, but Out of this World seems tugged by a consistent gravitational pull to the past.
Sponsored: Minds Mastering Machines - Call for papers now open