Endeavour mission specialists wrap first ISS spacewalk
'Nauts commence sorting out leaky station air-con
NASA 'nauts Greg Chamitoff and Drew Feustel have wrapped the first of four spacewalks planned for Endeavour's STS-134 mission to the International Space Station.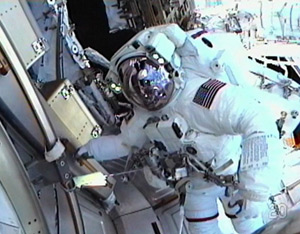 The pair's EVA lasted 6 hours, 19 minutes, during which they first installed an "ammonia jumper cable that will connect the cooling loops of the station's port-3 and 4 segments".
NASA explains: "This task was necessary for activities scheduled for the second spacewalk in which Feustel and Mike Fincke will top off the ammonia in the station's port-6 photovoltaic thermal control system cooling loop, which has a slow ammonia leak."
Chamitoff and Feustel (pictured) then shuffled to the Destiny laboratory, where they bolted on a couple of handrails featuring integral antennas for the External Wireless Communication (EWC) system.
Feustel was on his fourth spacewalk, having previously done three EVAs on the Hubble Space Telescope. Chamitoff was venturing outside for the first time, and in the process became the 201st person "to be in outer space", as fellow Endeavour crewmember Michael Fincke put it.
In response to radioed congratulations from Fincke, Chamitoff replied: "Thank you. It's a dream come true for me. It would be for anybody, the first or the 201st."
The second mission spacewalk is scheduled for Sunday. NASA has more on this and the two further EVAs in its STS-134 mission summary (pdf). ®
Sponsored: Minds Mastering Machines - Call for papers now open