Sony Vaio VPCF21Z1E 16in laptop
Plastic paving slab offers 3D fun
Gaming on the go
One thing to note: once activated, 3D mode noticeably darkens everything. Images shot on a sunny day using your 3D camera or camcorder look fine in 2D preview mode but seem to lose their zing in 3D.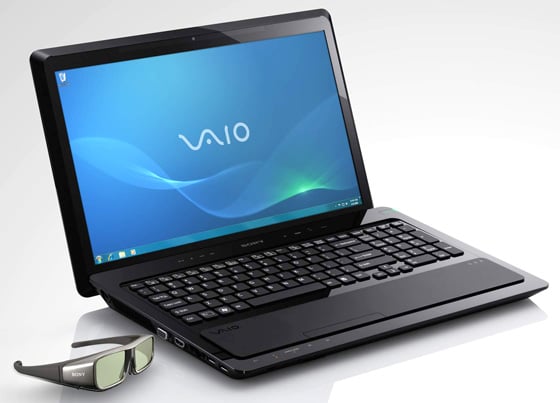 Yes, it's a big'un: those large electronic spectacles should give you an idea of relative size.
The VPCF21Z1E/BI also offers the ability to artificially render 2D movies into 3D by pressing the subtly labelled '3D' button above the keyboard. This is cute, if gimmicky, and it even does some pretty clever things to 2D anime, but I could only get it to work with DVDs. Sony's documentation says it can be applied to Blu-ray movies too but all my attempts produced a 'Cannot switch to 3D display' error, no matter which Blu-ray player software I tried.
On a more positive note, the optical drive can read and write to Blu-ray, as well as all the usual DVD and CD formats.
Verdict
Overall, I was happy with performance of the Sony Vaio VPCF21Z1E/BI, it's pretty damn good but not great. Yet compared to others in this class that Reg Hardware has tested lately, it seems Sony makes you pay for that extra performance.
Tech specs aside, the proof is in the playing, and Vaio's frame rate seemed to be best for new games and worst for the oldest. In the cut-and-thrust of 3D gameplaying, as well as 3D movie-watching and 3D picture fun, the VPCF21Z1E/BI is not just great, but terrific. Whether it's £1,799-worth of terrific, compared to a 3D-enabled tower system, depends on how much value you put on its luggable portability. ®
More Notebooks Reviews...

Asus
NX90Jq
Acer
Aspire 5940G
Apple
MacBook Pro
17in
Asus
N73SV
Toshiba
Satellite
A660

Sony Vaio VPCF21Z1E 16in laptop
Hi-res 3D entertainment computer in convenient portable format with powerful Intel i7 quad-core performance.