Sony Vaio VPCF21Z1E 16in laptop
Plastic paving slab offers 3D fun
Through a glass darkly
However, I didn't like it at all: despite the texturing, the lack of any obvious visual demarcation or tactile 'well' for the touchpad meant that I kept touching and swiping in the wrong place on the matte plastic strip.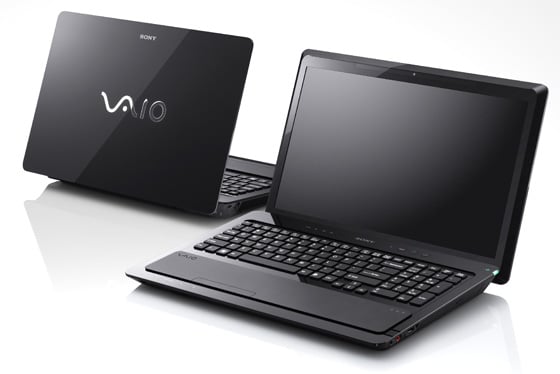 Can't get away from that shiny black stylee thang
You get a decent range of connectivity options on either side and the front edge of the case, including both VGA and HDMI out, and two of the three USB ports support USB 3.0 devices – for the nine of you out there reading this that have any. At the other extreme, for those who collect old kit for a laugh, there's a legacy i.Link port.
A useful Memory Stick and SD card combo slot is located at the front, although I found it a bit tricky to access because it's hidden under the upper lip of the wedge-shaped case.
The computer boots up into Windows 7 in under a minute, and the 1920 x 1080-pixel screen is bright and crisp. I liked it very much. Of course, the big attraction with the VPCF21Z1E/BI is its 3D capability. This works for 3D images and videos in a variety of formats, using the alternating left-right full-screen display approach in conjunction with a supplied set of Sony-branded 3D active shutter glasses.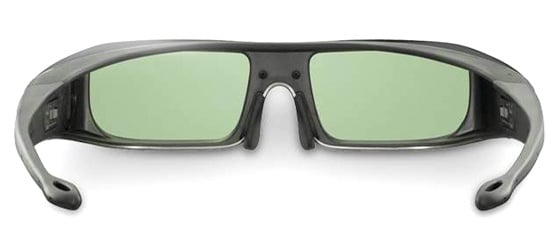 See life through grey-tinted glasses: 3D makes everything darker and duller.
The glasses are bulky, and wearing them feels like you've put on snorkelling goggles. I was pleasantly surprised that they fit neatly over my own spectacles. This came as a great relief since all other 3D specs I have worn, whether polarised or shutter, rest precariously at the end of my nose, constricting my breathing and eventually sliding off and swinging into my teeth with a crack.