Amazon heralds unstoppable rise of the e-book
Outselling print in the States, hardbacks in Blighty
E-books are now outselling hardbacks and paperbacks combined, Amazon.com claimed today.
It's UK offshoot, Amazon.co.uk, separately said it is now selling more e-books than hardbacks.
Since 1 April, Amazon.com has sold 105 e-books for every 100 print books. Free e-books have been excluded from the total, it claimed.
In the UK, from that same date, for every 100 hardbacks sold, some 242 e-books are sold by Amazon.co.uk.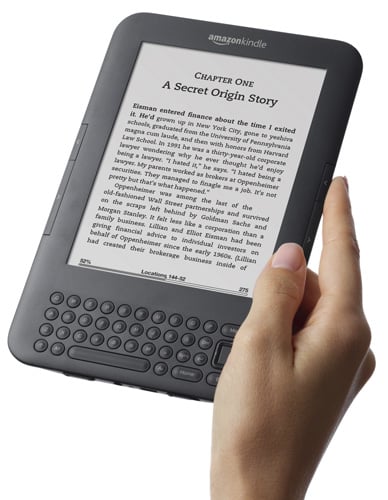 Kindle: easier on your wrist than a hardback copy of Tropic of Capricorn
It's worth bearing in mind that not all territories in which Amazon operates have their own Kindle shop, so a fair few of Amazon.com's e-book buyers are outside the US. But folk not resident in the States tend not to buy print books from Amazon.com.
Some do, but their contribution to Amazon.com's print sales will be a lot lower than overseas buyer's contribution to Amazon.com's e-book sales, making the e-book vs print sales mix less clear cut than Amazon's numbers suggest.
Amazon said that print sales are still rising, which indicates that e-book sales growth isn't yet coming at the expense of dead-tree product. Punters who can't get a copy of X for their Kindle will happily buy the paper version rather than wait.
In the UK, unlike the US, e-books warrant sales tax whereas paper books do not. That might favour paper sales over here, though Amazon's discounts are, in our experience, minimising the digital premium paid to the government.
That's particularly the case if you wait, buying an e-book after the release of the paperback version and not dash in as soon as the hardback appears in the shops. ®
COMMENTS
Short-sighted idiots?
Those short-sighted idiots only need to download Calibre (free ebook syncing software) and they can load any type of text document and ebook onto their kindle. I have loads of epubs, and read them on my kindle.
Pricing
Amazon need to either crack down on pricing or the publishers need to wake up and stop pricing their ebooks so high.
Right now it is trivial, absolutely trivial to pirate an ebook. Not only that but it is significantly faster pirating an ebook than a piece of music or a film because of the file sizes involved.
They need to start pricing closer to reality. (There are no printing costs, no storage costs etc) They are not only competing with free ebooks through piracy but also normal second hand books on ebay.
Amazon (i've only used the kindle so I can only comment on that) has an excellent system for previewing and buying books, it's practically flawless. But as I said above, the pricing is horrendously off once they can get that sorted out then the only problem for them for removed is the silly drm.
How much difference between 69p and free?
They may have ignored the free Kindle books, but if you look at the top 10 paid-for ones on Amazon's UK site only four cost more than £1, and three of those are the sort of price you pay in remaindered bookshops. I bet they won't be prepared to compare the formats on the basis of gross revenue, even in percentage terms (i.e. Kindle book revenue is X% of print book revenue).
still a stich up
cos you can't choose which stores to buy from !
globalization my arse, each still coverting there own territory with the extra profits that involves
Rekindling a love for reading
I've had my Kindle for 10 months and love it, ESPECIALLY after getting a nice leather cover and finding Calibre! But most of the books I have on it were either free or very low-priced. What I have found is that thanks to the eReader my pleasure in recreational reading has been rekindled (sorry, couldn't resist), and I've bought more dead tree books in the last six months than in the previous 6 years. I first check to see if the book I want is available for Kindle in my region, and if not, then it's off to www.bookdepository.co.uk for a paper version. I think it far from inpossible that other Kindle owners do similarly, and that thus Kindle may even be helping dead tree sales numbers.