Pint-sized 3D printer produced
Fab one
3D printers are generally so large, that even if you had a daily use for one, it would be an implausible prospect to set up beside your home PC. This could be about to change.
A team from the Vienna University of Technology has developed a machine much smaller, lighter and cheaper than a standard 3D printer.
The concept draws on research conducted by a team of mechanical engineers led by Prof. Jürgen Stampfi, along with the help of a chemical research team led by Prof. Robert Liska. A prototype was put together by Klaus Stadlmann and Markus Hatzenbichler.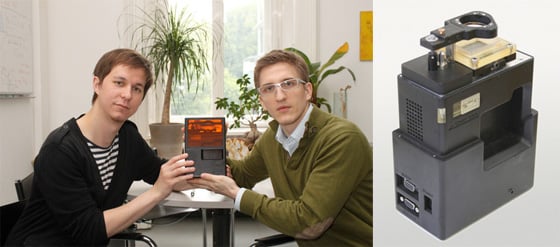 The device uses "additive manufacturing technology", printing objects in a synthetic resin that hardens when illuminated with intense light. As the desired parts of a layer harden, the remaining resin is irradiated and a new layer can be added. These layers are just a twentieth of a millimetre thick and are printed with such precision that the machine could be used for manufacturing detailed objects such as hearing aid parts.
"We will continue to reduce the size of the printer, and the price will definitely decrease too, if it is produced in large quantities," said Stadlmann.
The prototype is about the size of milk carton, weighs just 1.5kg and costs €1200 (£1056) to build.
Scientists are now working on trying out different materials, from special ceramics to eco-friendly biodegradable substances. Okay, it's probably not gonna print your TV dinners any time soon, but 3D printers, particularly ones of this size, certainly appear to be heading towards an affordable commercial venture for home use. We'll let you know when we see resin packs start to appear in Ryman.
If you're confused by 3D printing, then our feature on the topic will tell you how it stacks up. ®
Sponsored: Minds Mastering Machines - Call for papers now open