Samsung Galaxy S II dual core Android smartphone
Speed dialler
Background tasks
Sure enough, the handset feels very fast, with virtually no sign of lag when switching between apps. There are still occasional signs of slowness when browsing the web, of course, but that's more to do with the quality of internet connection rather than processing power.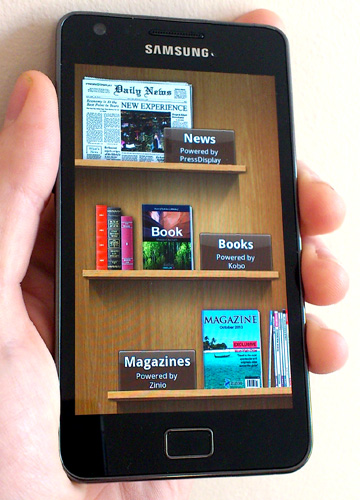 Readers' Hub
But as with LG's Optimus 2X, while the Galaxy S II's 1.2GHz processor is fast, it's not shockingly faster than its 1GHz single core predecessor. Until you realise that you haven't had to shut any apps down for a while and you've still got several whizzing away in the background without any sign of slowing down. Only then does it become abundantly clear that something different is going on, no doubt helped by its 1GB RAM.
There was no problem with call quality, which always came through with crystal clarity. It's running Android 2.3 Gingerbread – strictly speaking it's 2.3.3 rather than 2.3.4 – so it's lacking native video chat for now, though an update is likely. And, as usual, Samsung has introduced a few interface tweaks to make it its own. The latest TouchWiz 4.0 has the distinctive Samsung look, but also adds some extra apps, including four 'Hubs' which group linked apps and functions together for convenience: Social, Music, Game and Reader.
The social hub pulls all your networking updates (Facebook, Twitter, LinkedIn) together into a single feed – something no smartphone can do without these days, and it does a perfectly good job of it too.
The Game Hub features some extra games but it needs a bit of development to mark it out as an improvement on what you can get from the standard Android Market. The Reader Hub, meanwhile, gives you access to books from Kobo, newspapers from PressDisplay and magazines from Zinio, which is a decent offering overall, as well as the option to download e-Book apps, such as Amazon's Kindle, from the Market. PIC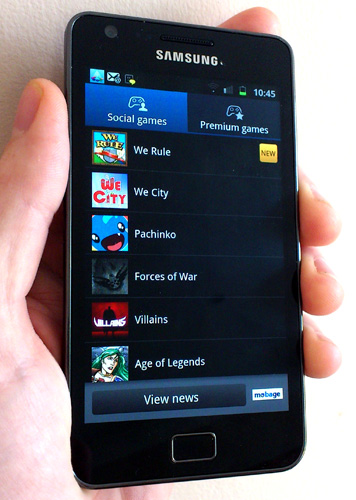 Games Hub
The Music Hub powered by 7digital gives you quick access to MP3 downloads, which is fine, but it's not connected directly to the Android music player – so if you want to play your own stored music, you'll have to come out of it and load up a different player. There's plenty of room for tracks though, with 8GB of memory on board which you can boost by another 32GB using the microSD memory card.
Sponsored: Minds Mastering Machines - Call for papers now open