E Ink, Epson to build 'retina' display for e-book readers
300 pixels in every inch
E Ink and Epson are to jointly develop a electronic paper panel with a "retina display" pixel density... almost.
Apple calls the iPhone 4 screen a "retina display" because its 326 pixels per inch (ppi) density is "so high that the human eye is unable to distinguish individual pixels".
Actually, look hard enough and you can see them, but if you're not trying, you won't.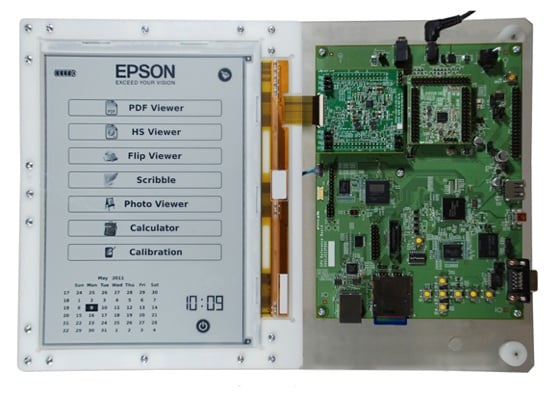 The E Ink / Epson screen will have a 300ppi, but even that will make the current Kindle's 167ppi look low res.
It'll be bigger, though: an iPad-like 9.7in to the Kindle's six. The new screen's resolution will be 2400 x 1650, and monochrome.
E Ink will develop the display itself, Epson the chip that controls the screen.
Neither firm said when the screen will appear in e-book readers you can buy. ®
COMMENTS
Good enough
300dpi is fine. Laser printers historically only printed a dot or not. Even with only 4 levels of grey you can make 300dpi look as good as 720dpi
Also most people don't have the sharp enough vision at normal reading distance to see much more than 200dpi if the image is anti-aliased with a few grey levels.
My LCD is about 133dpi and almost no-one has ever noticed the pixels.
I look forward to getting an eReader with 9.7" screen and 300dpi. Great for A4 PDFs.
PDFs reformat badly, so a 9.7" 300dpi will be very nice for reading and documents
It allows a nice wide margin around "paperback" format text rather than text up to edge of screen.
Work or Play?
I have both a Kindle 6" reader and a Sony 5" reader. Love both to bits. I use them for leisure (Play). I've tried putting pdfs onto them for work but they simply don't work well enough. I've converted some pdfs to kindle format and thats mostly ok, unless the text has columns in the layout. Close, but no cigar.
As pdfs are more for technical reference (work) I'm thinking a bigger pdf capable reader will be the thing to go for. Colour isn't that important to me, readability is.
I think this sort of high def image will be pretty good when it comes out, I might even save some pennies up to buy one.
Prick alert
He means an A4/Letter-sized page, as is obvious to anyone but the most pedantic of twats. Almost all PDFs you get are formatted to A4 or Letter and look awful on most eReader screens, hence wanting a screen large enough to show "full page" (ie A4/Letter size) PDFs.
Unfortunately you're a pedantic twat trying to score points from an anonymous commentator on some news website so you chose not to realise this.
Kindle's screen is good enough
You can't see the pixels. Whenever I've asked someone to guess what the resolution is they've overestimated wildly.
@AC
Same thing here; I think part of it is that there's no gaps between the pixels, and they've selected fonts that are relatively aggressively fitted to pixel boundaries so there's limited need for anti-aliasing anyway. http://www.bit-101.com/blog/?p=2722 makes the point quite well, especially when you get to the 400x versus 375x zooms.