Brink
Edge of existence
Experienced lag
Another inconsistency is the matter of character and weapon upgrades; experience points are constantly accrued and can be spent on anything from increasingly deadly turrets, to bullet-proof armour. It means that your character is gaining ever more elaborate abilities – which is fine, if hard to keep track of – but is another annoyance for newcomers, in a game already complicated to get to grips with. There is a matchmaking system in there, but that's a further limit on finding a game with acceptable connection speeds.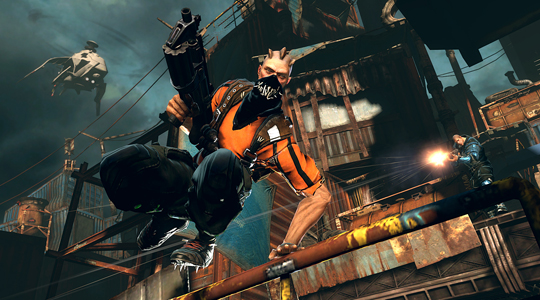 A man went over a bar
On the subject of lag, many of the matches I played (both before and after the game's general release) were blighted by the stop-start condition which plagues so many titles in their early days. I've been playing the Gears of War 3 beta lately and Brink would have surely benefited from its dedicated (and lag-free) servers.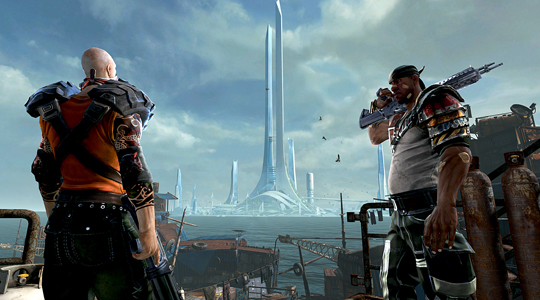 Shard times
Verdict
Brink earns kudos for being a different take on the team based on-line shooter, with its keen focus on speed and movement. What it lacks is a feeling of focus, with its classes strangely muddied, repetitive objectives across maps and exchanges of fire which just don't quite cut it. It's a shame as Brink certainly has its moments, but there are one too many issues to whole heartedly recommend it. That said, if you're looking for a more up-to-date Team Fortress 2, it might just be for you – at least once that lag gets sorted. ®
More Shoot-em-up Reviews

Operation Flashpoint 2:
Red River
SOCOM 4
Crysis 2
Killzone 3
Bulletstorm
Sponsored: Minds Mastering Machines - Call for papers now open

Brink
Parkour meets gun play in Splash Damage's latest on-line shooter. Available on Xbox 360 (tested), PS3 and PC.