Brink
Edge of existence
It's all objective
Indeed, you can swap between light, medium and heavy builds between missions – with the ubiquitous movement versus heavy weaponry trade-off – while you can also switch classes (from a choice of soldier, engineer, operative and medic) mid-mission. It's a praiseworthy attempt at diversity, but can lead to confusion; particularly as none of the classes 'feel' distinct from one another, meaning it's often easy to forget quite what class you are in a given moment.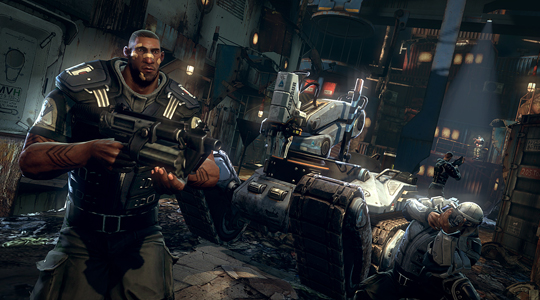 Bot your back
Pressing up on your controller's D-pad reveals the objective wheel, a useful device which goes someway to providing structure and direction to the chaos. The objective at 12 o'clock is always your side's chief goal, while those at other sections of the wheel (destroy a barricade, build a turret, capture a health station) are non-essential side-objectives designed to make your team's main goal more readily achievable. Usefully, the wheel also tells you which class you need to be to achieve those side-objectives, with players able to change class at command posts.
Objectives range from the destruction of a strategically key piece of infrastructure, to the springing of prisoners and encourage the coming together of forces. The resulting firefights are fairly bland though, with weapons suffering from what's best described as a lack of "oomph". The knockdown system is at least a little different – with KO'd players able to lay prone indefinitely as they wait for a medic – but that depends on the medics actually bothering to throw a revive syringe your way.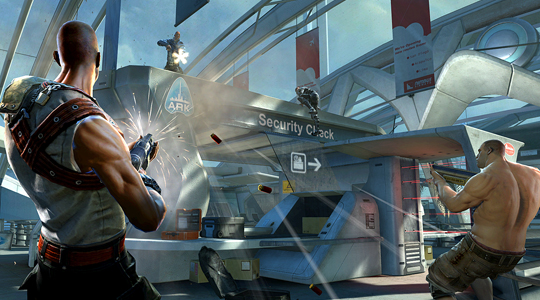 You wanna search my bags? Check out my mags!
Aesthetically, Brink is perhaps most reminiscent of Team Fortress 2 with its big, bold characters. But, where Valve's class system ensured each class was distinct by limiting their size – scouts, thin and fast, for example – Brink's is much more freeform. Theoretically, that's great. Yet in practice, matches have a tendency to degenerate into little more than deathmatch, as "teams" wage uncoordinated attacks – a particular issue if you're part of the advancing team. Get eight mates on your team and the experience improves dramatically, of course. Still, that's not ideal when you just want a couple of quick games.
Sponsored: Minds Mastering Machines - Call for papers now open